News & Events
---
February 25, 2014 | By Kristian Dyer and Mike Naples | Original Article

Mike Naples works out at the TEST Parisi Football Academy. (Photo by Kristyna Barbella/KBMultimedia.com)
MARTINSVILLE, N.J. (CBSNewYork) – The NFL Combine is this week, but that doesn't mean that the draft evaluation process ends, or the training for the NFL Draft for that matter. For Mike Naples, the work continues as he trains for the draft at the TEST Parisi Football Academy. Naples, a product of Somerville High School in central New Jersey, is hoping to parlay his time as a tight end at Boston College into a shot at the NFL.
Naples currently trains six days a week at TEST Sports Clubs in Martinsville, just a short drive from his home. The facility and the TEST Parisi Football Academy has produced some of the best players in the NFL, including the likes of Joe Flacco and Patrick Peterson among dozens of others.
Each week, Naples will blog exclusively for CBS New York on his draft process, taking us into the life of a prospect up through being signed by an NFL team: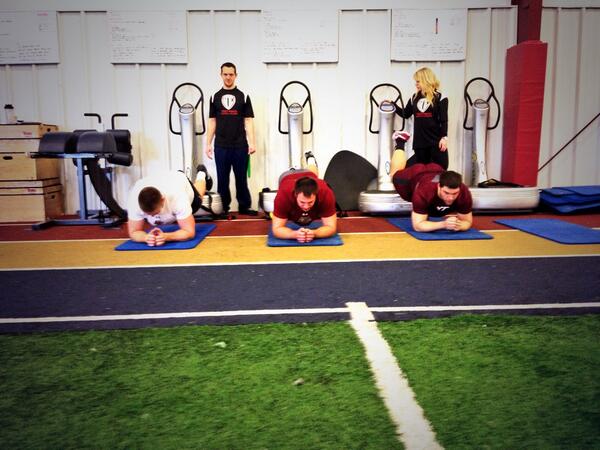 RISE AND SHINE
My schedule is pretty intense and there isn't a whole lot of down time to be honest, not when you're getting ready for the NFL Draft. I currently am at home with my parents as I go through this process, a smart move since they live about 15 minutes from the TEST facility. My teammate at Boston College, Steele Divitto, also lives with us as he's claimed the guest room as his own. It's nice to have a teammate with me as we both train for the NFL.
We are up at 7 a.m. and kick-start the day with some eggs along with a healthy dose of oatmeal or cereal. Close to 45 minutes later, we are making the short drive to TEST to get ready for our workouts. It's smart to get there early to stretch and ready ourselves, either utilizing the Power Plates or hopping in the cold tub. Workouts begin at 9 a.m., and nearly every morning it is agility and speed training. It's great to get the running in early though.
We're done a couple hours later, which means it is time for lunch. Steele and I head to a local deli where they've gotten to know us. The guys in there are huge Giants fans and they are hoping that we end up with them. Lunch break gives you a time not just to eat, but to get ready for the afternoon workouts.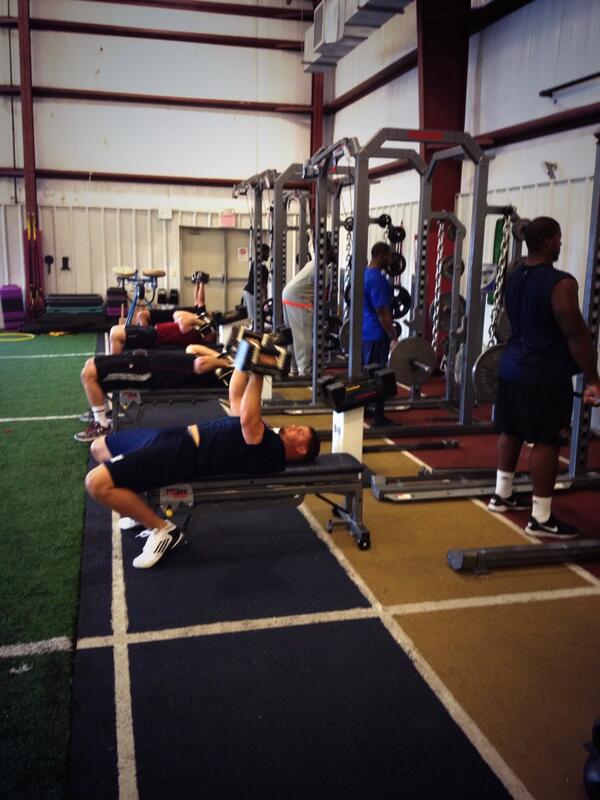 PUTTING IN MORE TIME
The afternoon sessions are interesting. We do a lift usually around 1 p.m., alternating lower-body and upper-body days.
Since I've been a member of the TEST Parisi Football Academy, I've added four reps to my 225-pound bench press and I'm now up to 25 reps. That was my goal heading into things here so I'm hoping to go above that.
The workouts aren't what you'd imagine. You think about NFL Draft training and you probably imagine players throwing around these huge weights.
I thought it was going to be more heavy-weight stuff but it's more controlled movements, more functional movements. You're working on form, you're working on certain motions, looking to get stronger the right way.
POSITIONAL WORK
On Monday and Thursday afternoons, we do positional work as well. My positional coach here in the TEST Parisi Football Academy is Jerricho Cotchery, the NFL veteran wide receiver. It's great to get his opinion on running routes. Learning to stay lower, things like that. He's a really honest and he's also a great role model.
What I like is that he is open to sharing his own experiences with us. Talking about an NFL locker room and what coordinators are like at that level. All that insight is really interesting.
HOMEWARD BOUND
Steele and I stick around till 5 p.m. or so to do some more work on our own, including cone drills and some more stretching. Then we hit the cold tub again and Chipotle on the way back home. I love that place.
Once home, we have dinner again. Yes, that's right. We stop at Chipotle and then have dinner an hour later. We try to consume between 4,000 to 5,000 calories a day, up significantly from when I was in college. It is lean protein and the good carbs, but it still is a fun part of this whole experience.
After dinner, I get a couple episodes of the Walking Dead in on Netflix before hitting the sack around 10 p.m. I need to get my rest in as it all starts again tomorrow.
---
Published: February 15, 2014
by Tom Luicci, The Star Ledger | Original Article
MARTINSVILLE -- For eight hours a day, six days a week, Jeremy Deering is among a dozen or so NFL Draft hopefuls doing what he can to improve his speed, strength and agility, mimicking the drills that are featured at the NFL Combine.
Exactly what it is that Deering is preparing for, he can't say yet. After playing safety, wide receiver, running back, Wildcat quarterback and returning kickoffs during his four years at Rutgers, the Tampa native isn't quite sure how pro scouts view him.
"I haven't put too much thought into that because it really depends on what they (NFL scouts) think," Deering said during a recent break at TEST Sports Club in Martinsville, where he spends most of his time these days working out along with former teammates Jamal and Jamil Merrell. "I have no problem playing offense or defense. It doesn't matter to me.
"I've just got to show that I'm an athlete. If I can do a lot of things, play a lot of positions, I would think that would help me."
For most players with NFL dreams, Deering's current post-college life is typical. He wasn't invited to the NFL Combine Feb. 22-25 in Indianapolis. From Rutgers, only wide receiver Brandon Coleman was.
What that means is for Deering and the like is they have to do even more to make an impression during their school's pro day. Rutgers' is set for March 12. So they flock to places like Test Sports Club, where they get coaching from current and former NFL players (Jamaal Westerman, Jerricho Cotchery and Scott Brunner among them) and follow a regimen specifically geared to helping them improve at the NFL Combine measurables. There's even a day devoted solely to agility. That's Yoga day on Wednesdays.
"My goal being here is to get better at everything," said Jamal Merrell, the Scarlet Knights' starting outside linebacker the past two seasons. "There's not just one thing I'm focusing on in terms of the drills. It's everything. That has to be your mindset."
Kevin Dunn, the owner and CEO of TEST Sports Club, has been running his NFL prep program -- the TEST Parisi Football Academy -- at this site and two others he owns for the past 12 years.
He says they have had 208 draft picks during that time, and points to the improvement of Joe Flacco as Exhibit A for the program's ability to enhance a player's draft stock.
"He was projected as a third-round pick when he came here and he wound up being drafted 18th overall," Dunn said. "He ran a faster three-cone (agility drill) than Michael Vick. That opened some people's eyes."
The program Dunn offers is the next-best thing to the NFL Combine because it sets up players to excel at the pro days that most major colleges now have.
"The goal is to help these guys perform well on the Combine measurables and at their pro days," he said. "We have the same measurables they do at the combine – the 40-yard dash, the three-cone, the 60-yard shuttle, the 5-10-5, the vertical jump, benching 225 pounds for reps and the broad jump.
"If they test well and light it up at their pro day it will give scouts a reason to go back and look at their football tape and see how those skills translate into how well they play."
Deering, a superior athlete, is confident he will test well.
"The numbers I put up I know will be good," he said. "I'm not really worried about that. So I'm focused on technique right now to give me that extra edge."
The 40-time, of course, is at the top of the list for most others, including former Notre Dame linebacker Carlo Calabrese of Verona. That's why he is alongside Deering and the others six days a week.
"I need to show I can run faster than (scouts) think I can," he said. "I'm pretty sure they know I'm a tough, physical player. I like to hit. But I've got to show them my speed and that I can run."
---
Published: February 15, 2014
by New York Post | Original Article
Terrence Fede grew up in Nyack a Giants fan, and now he is Fede shooting to be the first player drafted out of Marist College in Poughkeepsie. He is a 6-foot-4, 278-pound defensive end who has admired Michael Strahan, Justin Tuck and Jason Pierre-Paul.
"Right now I'm training at TEST Parisi Football Academy in Martinsville, N.J.," Fede told The Rumble. "These guys really know what they're talking about."
These guys like who they're training.
"Terrence has the potential to take it to the next level. He has good speed and lateral movement for a defensive lineman," said Skip Fuller, the academy's performance director. "I have worked with several linemen in the past years and Terrence's motor never stops. I think he has the frame that all NFL teams look for. Terrence continues to work hard and make strides in shaping his body and overall speed."
Fede will be having his Pro Day at Marist on March 6 or 13. He hopes to post a surprise 40 time that will enhance his chances to make history.
"It's a long shot, but … I want to be the first one out of Marist College to be drafted," Fede said.
Fede — who is a fan of Ray Lewis, DeMarcus Ware and Aldon Smith — said he believes he has the versatility that NFL teams crave.
"I feel like I can play any position on the defensive line, and I can also play a little outside linebacker rushing the quarterback, which is what I did somewhat in college," Fede said.
Sacking the quarterback is something he did somewhat too.
"I set a new sack record for my school with career sacks, I have 38 1/2, and I set a single-season sack record at 13.
"Hopefully that can do a lot for me."
Clutch time for B'way's 'Jeter'
Christopher Jackson has been on big stages before, appearing in "In The Heights," "The Lion King" and "Memphis." He even recently sang the national anthem before the crowd at a Garden Knicks game. However, the actor/singer now has even more pressure in his continuing role as the now-retiring Derek Jeter in "Bronx Bombers," which opened last week at Circle in the Square.
While fans have turned out to see many of the Yankee greats come to life, especially Peter Scolari as Yogi Berra, the heat will now be up more on Jackson, who becomes a central part of the play's end when Yogi relies on Jeter to help keep the pinstripe tradition alive. Does this week's announcement put even more pressure on him to deliver than it does for the real Jeter during his curtain call season?
"We all have a great responsibility to be true to the characters that we bring to the stage, and the fans know if we aren't bringing what they expect, just like they know when a player has an off night," Jackson said. "For me, I always felt that I had a great responsibility because Derek is still playing and the younger people know him better than anyone. So now I really have a duty to make sure I do everything I can to make sure 'No. 2' on Broadway is as solid as the one in The Bronx. It is even more of a privilege now."
Jeter has yet to see the show, but former Yankees Jorge Posada, Rickey Henderson, Tino Martinez and John Flaherty have all come away impressed with the show's realism.
This camp a bit of a relief for Mets' Rice
Mets reliever Scott Rice is breathing a little easier this spring, but not much. Rice reported for work last week in Port St. Lucie, and for the first time in 15 years, he is pretty much assured of breaking camp with a big league club.
After 14 years in the minors, the 6-foot-7 Rice saw his hard work and dedication pay off when he landed a spot in Terry Collins' bullpen last year. Rice appeared in 73 games before he underwent sport hernia surgery in September.
"I think I proved that I can do it," said Rice. "But I have been around long enough to know that it can slip away just as fast. I am healthy and ready to go."
Collins said he remembers the day he told Rice he had made the team.
"They should make a movie out of his career," Collins said. "We were in Sarasota two days before the season started and I called him into my office to tell him he was going north with us. He deserves so much credit for sticking with it all those years."
---
---
Published: January 30, 2014
by Joe Gaiter, Expanded Sports | Original Article
The NFL Draft is right around the corner and players all over the country are getting ready to prove why they should be picked up by a team. Today we interview Monmouth University's Clark Coe his accomplishments.
Joe Gaiter: What does Football mean to you?
Clark Coe: Football means the world to me. It has molded me into the person I am today. It has taught me discipline, respect, loyalty, consistency, teamwork, heart, and determination. When people doubted me or told me that I didn't have what it took, I used football as my motivation to prove my doubters wrong. The game of football isn't the only aspect of why I love it… It's the nature and culture that surrounds it. I have started a family with many teammates that I have been blessed with over the years because of football, and it just makes the game more worth it.
Joe Gaiter: How will you elevate your game to the next level?
Clark Coe: I train seven days a week to elevate my game to the next level. Five of those days are actually where I physically put in the work, whether it is working on my technique for my pro day, lifting to get my body physically ready, or just getting myself in the best shape possible. The other two days are split between me conditioning myself physically and focusing on recovering my body for the next week. The mental aspect of my training is seven days. Every day I feel like there is something new to be learned, and I take pride in learning because knowledge is the key to success. So, whether it is watching film on my technique, watching others and their technique, listening to my mentors, asking for advice, or even looking things up myself, these are other ways to elevate my game to the next level.
Joe Gaiter: What are your biggest strengths on the field?
Clark Coe: I would definitely have to say that my team effort is one of my biggest strengths. I pride myself in being a team member because you can't be successful on the field without the other ten guys. My physical strength would definitely be my speed. My speed has always been my edge against my competition, and has always helped me recover when I needed it the most. Another one of my strengths is determination. Regardless of the situation in the game, I want to win. I am determined to do whatever it takes to succeed.
Joe Gaiter: Explain your stats on the field…
Clark Coe: This was definitely my breakout year, I finished 3rd on the team with 57 tackles including 2 tackles for a loss. I had a sack for a seven yard loss, while forcing the fumble, recovering it from the quarterback and scoring a 42 yd touchdown all in the same play against Lehigh University. I recorded another forced fumble in the opener against Montana State. I finished the season with 2 interceptions. The first one was against Robert Morris, where I jumped a tight end running a seem up the middle of the field from my curl/flat position, and the second one came on a key 3rd down in the Endzone with less than 3 minutes left in the 4th quarter to give our offense an opportunity to take the lead. I finished with 9 pass breakups and 11 passes defended.
Joe Gaiter: Why should any NFL team give you a chance?
Clark Coe: I believe I deserve an opportunity because, my passion, dedication, heart, and determination is one of a kind. I was told when I was younger that I didn't have what it took to play Varsity high school football, and with those words edged in my mind, I drove myself to become the best player that I could be and started my senior year. I was also told that I didn't have what it took to make it into a college and play football because I wasn't good enough. I was accepted into Mount Ida College which is a Division 3 level in college football and this opportunity gave me a second chance to get it right and press toward my dream. After, hard work and determination, I was able to transfer to Monmouth University and play Division I football. I used that as my motivation and played all four years of football while getting my degree at Monmouth University. I was always told that I couldn't or didn't have what it took to reach my goals, but I believe that no goal is to hard to reach with God, hard work, and determination. I am usually the first person in the door in the morning to get ready to give it my all, and will be the last person to leave at the end of the day. I take the word "No" as motivation, use my doubters as my determination, keep God as my inspiration, and will use my dream as dedication, when an NFL team will give me a chance.
Joe Gaiter: Who is your favorite NFL player and why?
Clark Coe: My favorite NFL player would have to be Peyton Manning. Ever since high school, he has been my role model because regardless of what he has accomplished, he was always criticized for never getting a Superbowl ring. He is determined to win at any cost, and never boasts about his accomplishments. He inspired me even more when he got hurt and everyone told him that he should just retire, but he did what a determined player would do and that was to prove to everyone that with hard work and dedication nothing is impossible. I look up to him as a role model because I can relate my football story to that so well. As he continues to prove all his doubters wrong, he motivates me to do the same.
Joe Gaiter: What has been your biggest accomplishment as a player so far?
Clark Coe: I would definitely have to say my big play was against Lehigh University. I was able to blitz the quarterback, knock him down while ripping the ball from him, maintaining balance and sprint to the Endzone for a 42 yd defensive touchdown.
Joe Gaiter: What have you learned about yourself in your college career?
Clark Coe: I have learned a lot. I am the man that I am today because of my college career. Before college, I was the goofy kid that no one took seriously because of my work ethic. I didn't focus on the future and didn't realize how important an education can change your life and give you a totally different view about life. During the past five years, I have established myself as a hard worker who is determined to reach his goal at any cost. I learned that if I believe in myself then there is no mountain to high to climb, and no goal/dream to far to reach. I also learned that nobody can stop your dreams, unless you give them the power to do it.
Joe Gaiter: Describe how you play your position on the field…
Clark Coe: In our defensive scheme at Monmouth University, the safeties were the quarterbacks on the defense. We had to know what the offense was trying to do, and communicate it with the linebackers and linemen to get them lined up. So I played my position with confidence that I will make the right decision when calling the play, and execute my job efficiently and consistently. I played safety with the intent that no one was too good for me, and that as long as I remained calm and focus between the snap of the ball to the whistle, that I will do my job the best it can be done.
Joe Gaiter: What will you miss most about Monmouth University?
Clark Coe: I would definitely have to say my teammates. My teammates are my brothers, we have grown into a family connection. My senior year is when I really became close with them, and they really helped me become the man that I am today. No matter a loss or a win ,we always had each other's back and when the going got rough we never pointed fingers but rather helped each other up when one of us were down.
Joe Gaiter: What is your major and how will you use it?
Clark Coe: My major is Criminal Justice, and I would love to use it to help our beloved government. Hopefully I can make a difference one way or another; whether it is by showing people that dreams can come true when you put your heart, soul, and mind into it, or by serving my country and helping the government the best way I can. My goal is to branch out into Homeland Security and develop my way into the field.
Joe Gaiter: Final words/shout-outs?
Clark Coe: Definitely want to give a shout out to God for even getting me this far in my life. Without him, I would definitely not be here and been able to accomplish all that has happened in my life thus far. Second I would like to give a shout out to my mother for believing in my dream and in me, because she has been with me every step of the way and is my biggest fan. Finally I would like to give a shout out to my family and friends for being the greatest support system ever! They continue to motivate me and push me to be my very best.
---
Published: January 24, 2014
by Brian Costello, New York Post | Original Article
Now playing in Pittsburgh, former Jets receiver Jerricho Cotchery is helping the NFL's hopefuls prepare for the combine. (Photo: Getty Images)
Ten years ago, the Jets took Jerricho Cotchery in the fourth round of the NFL Draft, fulfilling his dream of playing pro football. Now, Cotchery is trying to help others achieve the same goal.
Cotchery, who played seven seasons for the Jets and has spent the past three with the Steelers, is working as an instructor at TEST Football Academy in Martinsville, N.J., helping draft prospects prepare for next month's combine and their individual workouts after that.
"I've always enjoyed that part of it, the teaching part and helping someone develop," the 31-year-old Cotchery said. "I just always enjoyed that part of it. When this opportunity came about, I definitely wanted to be a part of it because this is something I enjoy doing."
Cotchery became a fan favorite with the Jets, but asked for his release before the 2011 season. The Jets complied and Cotchery went to Pittsburgh. He had been a role player in his first two seasons there, but this past year he had a career-high 10 touchdowns and had his most receptions (46) and receiving yards (602) since 2009.
"I had an opportunity to play a lot more this year with Mike Wallace going down to Miami," Cotchery said. "I was able to move back into my natural position in the slot, and I was able to play a little bit more and had some opportunities to make plays and by the grace of God I made those plays. It was a lot of fun to make some plays for the offense and for us to turn it around in the second half of the season and play well as an offense. We had a lot of young guys that stepped up. That's given the organization reason to be excited for the future."
The question now is whether Cotchery will be a part of that future. He will be a free agent in March. Cotchery said he has not yet thought about free agency. The Jets desperately need help at wide receiver, but likely won't go after Cotchery because they are trying to get younger at the position.
The Jets have struggled at wide receiver since Cotchery left in 2011, and it was the weakest position on the team last year.
"They had some unfortunate stuff happen to them, especially with [Santonio Holmes] getting hurt," Cotchery said. "That hurt them a lot because he had great chemistry with [Mark] Sanchez [in 2010]. You could tell he was never completely healthy this year. [Jeremy] Kerley being hurt this year, I think overall they were a healthy team, but I think the injuries at wide receiver cost them a little bit on offense."
Cotchery, who kept his family in New Jersey even after he went to the Steelers, said he still follows the Jets closely and was thrilled the team was able to finish strong and save coach Rex Ryan's job.
Now, Cotchery is spending his days working on drills with the college wide receivers, tight ends and running backs they will see at the combine and preparing them for the questions they'll face in interviews with team executives.
"Jerricho brings a unique combination of a current NFL pro's perspective as well as being an athlete who has been through the TEST Football Academy system," TEST CEO Kevin Dunn said. "We are blessed to have him on our staff."
The prospects Cotchery is working with include LSU wide receiver Kadron Boone, Boston College tight end Mike Naples and Fordham running back Carlton Koonce.
Cotchery hopes his experiences from the past 10 years can help these players play alongside or against him next year.
"What I wanted to do now is offer the wisdom and knowledge I have about the process and try to help these guys be as prepared as they can before the combine and interviews that come up," Cotchery said. "I just want them to have great comfort level where they're able to let their skill set take over when they work out and let their personality come out when they're interviewing."
---
Published: January 30, 2014
by The New York Times | Original Article
Derrick Coleman, the Seattle Seahawks fullback, is not the first deaf player to compete in the NFL but he will be the first to play in the Super Bowl. (Img: Jonathan Ferrey/Getty Images)
NEWARK — Hearing aids in, lip-reading skill at the ready, Derrick Coleman, a Seattle Seahawks fullback, fielded question after question from reporters at Super Bowl media day. Most of them were about his hearing loss.
"A kid in Long Island named Jonathan idolizes you," said one reporter, asking Coleman what he thought about being a role model for deaf people.
Another reporter asked, "What can you say to all of the people in the world who are hard of hearing and who look up to you?"
Again and again, Coleman answered, "If you really want something, you find a way to make it happen." He said people with hearing loss should never make excuses for why they cannot achieve their goals. He said he stopped doing that years ago, and look where that positive attitude took him.
For unknown reasons, Coleman lost most of his hearing when he was 3. He is not the first deaf player to compete in the N.F.L., but he will be the first to play in the Super Bowl.
"The hardest thing about being in the deaf community is getting over Wall 1," he said. "Everything I do is going to affect them in terms of perception."
His preaching about opportunity will all have been worth it, he said, if it helps motivate even one person with hearing loss. What Coleman did not know is that about 30 miles from where he sat, it already had.
When Coleman runs on the field for the Super Bowl on Sunday, Adham Talaat will be watching in Bridgewater, N.J., from the living room of the family that is hosting him while he trains for May's N.F.L. draft. Though Coleman contributes mostly on special teams, Talaat — a 6-foot-6, 280-pound defensive end — will keep his eyes focused on him at all times, willing him to make plays.
Talaat says he is sure that Coleman's success will help pave the way for his own, as well as for other deaf players like them.
"Before Derrick Coleman, where did we have a deaf role model like that? Who did we have to look up to, in terms of athletics, in terms of professional sports?" Talaat said Wednesday after a six-hour training session. "I can't think of anybody. Why? It's not because we're not capable of playing professional sports. So you tell me why."
Here are a couple of reasons. It most likely starts in youth leagues, where coaches might be hesitant to welcome a boy who is different from the rest, and where other children often equate "different" with "scary." It's a good bet that bullies have long teased talented athletes away from sports like football before they could develop into high school and college stars, let alone professionals. Who knows what we've missed out on?
Changing attitudes and stereotypes always takes something bold. But it also takes confidence on the part of athletes like Coleman; proactive parents like his mother, who made a special effort to explain to his teachers and coaches how to include her son; and coaches like Seattle's Pete Carroll, who took a chance on him, just as he would with any other player.
Coleman's successes put him in position to face the challenge of the N.F.L., which has never been quick to adapt to players who didn't fit into the traditional mold. And now players like Talaat are hoping to follow in his footsteps.
Talaat said he never had a deaf role model until he became aware of Coleman when they were in high school. Coleman was a rising star. It took Coleman that long to build the confidence to wear his hearing aids and not be embarrassed by them. Before high school, other children teased him because he was different, and many times as a boy he went home crying. His mother told him not to listen. His father told him to ignore the bullies by shutting off his hearing aids.
Coleman ended up playing at U.C.L.A., where he was a standout. And he never gave up on playing in the N.F.L., not after going undrafted, not even after the Minnesota Vikings signed him but cut him in training camp. The Seahawks picked up Coleman in December 2012.
Carroll said that Coleman's hearing loss has "never been a factor" and that Coleman simply told him: "Please, there may be a time when I don't hear you, but don't get frustrated. I'll get it."
The Seahawks, who play in one of the league's loudest stadiums, have made minor accommodations. Quarterback Russell Wilson knows to take out his mouthpiece in the huddle, so Coleman can read his lips. To ensure he has the right play, Coleman repeats it to his teammates.
"To not be able to hear that well and be able to process things and make plays, and to have him in the huddle, it kind of gives me chills to be honest with you," Wilson said.
Coleman's story, told in a moving commercial for Duracell batteries, can give you goose bumps.
In the ad, Coleman says: "They told me it couldn't be done, that I was a lost cause. I was picked on and picked last. Coaches didn't know how to talk to me. They gave up on me. Told me I should just quit. They didn't call my name. Told me it was over. But I've been deaf since I was 3, so I didn't listen."
Adham Talaat, a 6-foot-6, 280-pound defensive end, became a two-time academic all-American at Gallaudet University. (Img: Tara Lanning/Gallaudet University Athletics)
When Talaat saw the ad, he immediately thought, Whoa, that's me!
Talaat, like Coleman, is a talented underdog who has had to overcome huge obstacles to get where he is. He is severely to profoundly deaf, and he said he is able to hear only very loud noises — like fire alarms — if he is not wearing his hearing aids. Even with them, he cannot make out the words when he listens to music.
As a defensive end who did not start playing football until high school, he was offered one college scholarship — to the University of Massachusetts. But when the coach who recruited him left, Talaat no longer felt he fit in, and he dropped out.
He took time off to train and to look for another college that would take him, moving back in with his parents in Springfield, Va. Gallaudet University in Washington soon reached out, but only because a high school teammate was applying there and dropped Talaat's name.
At Gallaudet, a university filled primarily with deaf and hard of hearing students, Talaat excelled on the field and in the classroom. He became a two-time academic all-American, and in 2013 he helped the Bison reach the N.C.A.A. Division III playoffs for the first time in Gallaudet's 150-year history.
Now, Talaat is training at the TEST Parisi Football Academy in central New Jersey, and is one of a group of prospects preparing for the N.F.L. draft. Like Coleman, he says wearing hearing aids is no big deal, that it is just like wearing glasses. And like Coleman, he said his hearing loss should not change anyone's perception of him, or any other deaf player.
He wants — he expects — to be judged on ability alone, on what he can do, not what he can't.
Talaat was not invited to the N.F.L. scouting combine, but he is hoping to impress scouts at a private workout.
Coleman did it. So can he.
"At one point, women couldn't vote, African-Americans couldn't vote," Talaat said. "Maybe we're just the next wave. Maybe it's our turn now."
---
---
Published: April 23, 2013
by Jim Corbett, USA Today Sports | Original Article
The NFL is rife with very high draft picks who just never panned out in the league.
SAN DIEGO – In three NFL seasons with the Oakland Raiders, quarterback JaMarcus Russell went 7-18 as a starter, with 18 touchdowns and 23 interceptions.
His immaturity, and what Pro Bowl tutor Jeff Garcia calls "a negative Raiders ecosystem," led to Russell walking away from the game -- with $39 million from being the overall No. 1 pick of the 2007 NFL draft.
But Akili Smith knows what drove Russell, now 27, back from the depths of unmet expectations, self-inflicted wounds and forever being linked to epic failure on the internet.
Thirty minutes south of the high school where Russell works out alongside Garcia for a return to the NFL, Smith, 37, prepares for his second season as St. Augustine High quarterbacks coach and passing game coordinator in San Diego. If he were still in his twenties, as Russell is, Smith insists he would embrace and respect the game -- and this time wouldn't toss away a career on nightlife.
The Cincinnati Bengals chose Smith with the third overall draft pick in 1999, benched him by 2000 and released him after the 2002 season. The numbers aren't pretty: 17 starts in four years, a 3-14 record, five touchdowns and 13 interceptions. When the Bengals sent him packing, no team would take a chance on him.
He was a bust.
"It burned at me for five, six years when people said I was a bust," Smith said. "It hurt that there's so many articles on Google about you when you've been the best since Pop Warner. Then, after 17 NFL games, you're one of the worst football players who ever walked this earth.
Cincinnati Bengals quarterback Akili Smith was all smiles during practice in July 2002. But by the end of the season he would be out of the NFL, after only four years for the third overall pick of the 1999 draft.(Photo: Al Behrman, AP)
"I turned to partying to turn away from all the negativity, and the partying wound up costing me my career."
Type the words "NFL all-time busts" into a search engine, and the same names pop up -- Russell, Smith, quarterbacks Ryan Leaf, Tim Couch, Cade McNown and David Carr, wide receivers Charles Rogers and Mike Williams, defensive end Courtney Brown and others. The order changes, depending on who's ranking them. The label, once applied, sticks forever.
Thursday, 32 players will be chosen in the first round of the NFL draft. After months of workouts, private and public, and hundreds of hours of personal interviews, after digging into backgrounds and checking Facebook and Twitter accounts, teams will invest a first-round pick on the player they believe to be a sure-fire NFL star.
But it doesn't always work out. Sometimes, the scouts and NFL executives are dead wrong.
The Bengals were on Smith. The Raiders were on Russell. Smith knows what it's like to carry the label and roots hard for Russell to escape the despair that nearly swallowed Smith's life.
"Because I really wish I had a chance to play this game again," Smith said. "If I did, I would be watching film and training all day."
Joel Fish, who is director of the Center for Sport Psychology in Philadelphia and has worked with pro athletes for 20 years, knows why the label hurts so much.
"I had a player once tell me that word 'bust,' and that reputation of being a bust, was a ball and chain that he was wearing around his neck," the sports psychologist said. "My whole work with him was just to help him find ways to remove that 'ball and chain.'
"We all have pride and want people to think well of us. ... That's why it takes such courage for these guys to put themselves out there -- because they're always one moment away from being labeled in a negative way. So then that challenge becomes how to get that ball and chain off their neck."
A weighty issue with Russell
Weight was always an issue with Russell, who just two months ago came in at roughly 315 pounds. Now, he says he's at 276.
His easy smile seems to demonstrate that if he hasn't taken all of the weight off, he has jettisoned some of the emotional baggage of a failed career.
Why was he a bust?
"I blame myself," Russell said. "I could have given football more. I could have done more as a professional. There just could have been more film room, more classroom. I could have kept my weight down to become an overall better player.
"There's a lot that comes with that No. 1 pick. No matter what, you have to be willing to take it. I wasn't putting out No. 1 results. This time around, I plan on coming back with a vengeance, showing what could have been."
Kevin Dunn, TEST Football Academy CEO, convinced Russell to attempt a comeback in San Diego, working with former NFL conditioning coach Jeff Hurd and Garcia, who spent the 2009 Raiders training camp with Russell.
Russell never came close to realizing late owner Al Davis' vision of John Elway in silver and black -- and the team unsuccessfully tried to sue Russell to reclaim some of the money paid to him.
His legacy? A rookie wage scale, implemented in 2011, that mitigates the financial damage for whiffing on a top draft pick. And in 2011, when rookie quarterback Terrelle Pryor asked to wear No. 2 -- Russell's former number -- the superstitious Raiders refused to allow it.
Hoping to escape a football-less prison of his own making, Russell has worked six days a week to become what he wasn't -- a fiery field general in the image of four-time Pro Bowler Garcia. Russell is grateful the aspiring quarterback guru threw him a lifeline.
"Now that I know what to do, I can bring a lot as a leader," Russell said. "It's about getting into the right situation with a coach who would love to teach me to be that quarterback. ... When I'm taught the correct way, I can really play at a high level. Being away from it, that's when you find out the love you really have for football."
Garcia ran twice weekly, training-camp intense throwing sessions for Russell and a dozen players. He hopes his urgent tempo and quest for every-snap perfection rubbed off. But, then again, Russell's raw talent was never an issue the first time around. His work ethic and appetite were, and teams appear wary that he has the discipline to keep his head in the playbook and out of the refrigerator.
"I definitely would vouch for him. JaMarcus doesn't want to be remembered as the bust," Garcia said. "Here's an opportunity to turn the whole perception around as to who he is. He's definitely transformed himself.
"There's a sense of embarrassment from a physical and emotional standpoint. Physically, he let himself get to a place where he should have never been. It's about how you rebound and turn your life around. If a team gives him a chance, he doesn't want to let them or himself down."
But there are other questions, too: Russell was charged with felony possession of a controlled substance, a drink containing codeine syrup, when Mobile, Ala., police raided his home in July 2010. A grand jury declined to indict Russell, who pleaded not guilty. A friend, Marcus Stevenson, was charged after Stevenson testified the codeine-laced drink was his.
"That's over and done with, in the past," Russell said.
But for Russell, nothing will be in the past until he creates a new present.
Second chances can work
Hall of Fame cornerback Mike Haynes sat in the otherwise empty Cathedral Catholic High bleachers alongside his son, Tate, an eighth-grade quarterback mesmerized by Russell's impressive mock pro day. Russell roped freakish, zip-line spirals, flicking a couple of effortless, 65-yard touchdown strikes.
"Unbelievable. I've never seen anyone throw a football like that," said Haynes, who spent the latter half of his 14-year NFL career with the Raiders. "Maybe he's ready now. If I were a team, I'd give him a shot."
But second chances are rare once a player has been labeled a bust, especially for a lack of discipline and commitment.
Quarterback Kerry Collins, who retired after the 2011 season, was the fifth overall pick in the 1995 draft. He lasted 17 years and played with six teams. But his career almost ended after four seasons.
Quarterback Kerry Collins led the New York Giants to the Super Bowl in January 2001 vs. the Baltimore Ravens who won.
Photo: USA TODAY Sports
Collins used a racial slur, he claimed in jest, with black Carolina Panthers teammates during a night of drinking during training camp in 1997. He was later accused of quitting on his team when he requested a trade.
New York Giants general manager Ernie Accorsi took a shot on Collins and signed him to a four-year, $17 million contract. Critics thought Accorsi had lost his mind by investing in a drunken, racist, emotionally fragile bust.
"When we gave Kerry Collins a second chance in 1999, no one else would touch him," former Giants head coach Jim Fassel said.
Fassel helped Collins turn his life around, and Collins repaid the Giants' faith by leading them to Super Bowl XXXV (ending in a championship for the Baltimore Ravens). Collins' career far exceeded what anyone would have predicted when he checked himself into alcohol rehabilitation in 1999.
"I gave Kerry 100 chances to blame others," Fassel said. "He took full accountability. I'm as proud of Kerry as any player I've coached. Guys can change. It's up to them."
Must set aside personal problems
Russell lost his father figure, uncle Ray Russell, in 2009. His grandmother, Bernice Russell, was diagnosed in 2011 with breast cancer.
"I tried to come back in 2010, but couldn't lose the weight," Russell said. "There were life situations I had to deal with before I could put everything into working out and getting better."
Bernice Russell, 71, has been in remission more than a year, inspiring a grandson committed to recasting himself.
"He's come a long way," Martin said. "He's made a commitment, not just to football but life. His self-confidence is way up from two months ago. We're hoping a team will bring him in soon and capitalize."
Will someone gamble given a draft lacking a sure-fire quarterback?
"He'll get another shot," Ravens assistant GM Eric DeCosta said. "The guy throws the ball better than most quarterbacks. He played at a high level in college. Guys have had second shots and really benefited. If he works hard and rededicates himself, his future is very bright."
Smith knows what Russell needs in what's likely to be his last chance. He won't be able to completely shed the bust label, but he might get an opportunity to add a positive footnote or two.
"JaMarcus has to go to a strong organization where veteran leaders will put him in a headlock and say, 'You've got another opportunity. We're not going to let you blow it,' " Smith said. "JaMarcus fell into the same stuff I did. He wants to rectify and prove he's worthy of the first overall pick."
When told about Smith's comments, Russell nodded.
"I'm almost there," he said. "I've got to keep fighting. This time, I want to leave a better mark on this game."
And if he doesn't get the chance, Fish holds out hope that Russell and Smith -- and past and future draft busts -- won't wallow in their shortcomings or allow bloggers to dictate their self-worth.
"To me, it's how much of the player's identity is wrapped up in being the athlete," Fish said. "That, to me, is a crucial factor that determines how devastating being labeled as a failure or a bust will ultimately be."
Some of the more prominent draft "busts" over the last 15 years:
Quarterbacks Ryan Leaf of Washington State, left, and Peyton Manning, of Tennessee, are introduced at the start of the 1998 NFL Draft. Manning was taken as the overall No. 1 pick, by the Indianapolis Colts, and Leaf the second overall pick, by the San Diego Chargers. Only one of them went on to a successful NFL career. Guess who?(Photo: Mark Lennihan, AP)
QB Ryan Leaf — Was the second overall pick of the 1998 draft, by the San Diego Chargers. Played from 1998-2001. Had 14 touchdown passes and 36 interceptions, going 4-17 as a starter. He played for two teams, his last year with the Dallas Cowboys.
QB Tim Couch — Was the first overall pick of the 1999 draft, by the Cleveland browns. Played from 1999-2003. Had 64 touchdown passes and 65 interceptions, going 22-37 as a starter. His career was all with the Browns.
QB Cade McNown — Was the 12th overall pick of the 1999 draft, by the Chicago Bears. Played from 1999-2000. Had 16 touchdown passes and 19 interceptions, going 3-12 as a starter. His career was all with the Bears.
QB David Carr — Was the first overall pick of the 2002 draft. Played from 2002-2012. Had 65 touchdown passes and 71 interceptions, going 23-56 as a starter. He played for four teams, his last year with the New York Giants.
WR Charles Rogers — Was the 2nd overall pick of the 2003 draft, by the Detroit Lions. Played from 2003-2005. Had 36 receptions, with four touchdowns. His career was all with the Lions.
WR Mike Williams — Was the 10th overall pick of the 2005 draft, by the Detroit Lions. Played from 2005-2011. Had 127 receptions, with five touchdowns. He played for four teams, his last with the Seattle Seahawks.
DE Courtney Brown — Was the first overall pick of the 2000 draft, by the Cleveland Browns. Played from 2000-2005. Had 156 tackles, with 19 sacks. He played for two teams, his last year with the Denver Broncos.
By Rachel Shuster, USA TODAY Sports
---
Published: February 19, 2013 by Aaron Nagler | Original Article
With his comeback attempt off and running, so to speak, former Oakland Raiders quarterback JaMarcus Russell is in the thick of his preparation for his own Pro Day in April.
This week, with Jeff Garcia and the crew from TEST Football Academy monitoring his every movement, we see Russell go through what is basically his own personal combine. The results will be used to set his goals through the course of the next month or so.
This is our second full episode following Russell's bid to get back into the NFL. Let us know in the comments below if you think Russell will make the goals set for him in the video above and if you think his comeback bid will end up a success.
---
Published: February 12, 2013 by Aaron Nagler | Original Article
"I'm here to grind."
Those are the words of JaMarcus Russell as he begins his journey trying to get back in the NFL.
In our first full episode following Russell's attempted comeback, we meet some of the the people who will be helping try to make this dream a reality. From Brian Martin, the founder and CEO of the TEST Football Academy, to the Academy's nutritionist, Alex Fioroni, we also talk to Jeff Garcia and former Olympian Ato Boldon, all of whom will be working with Russell.
Of course, as impressive as this group is, none of them matter much if JaMarcus isn't committed 100 percent to getting back into shape (his current weight might shock you).
This is our first full episode following Russell's bid to get back into the NFL. Let us know in the comments below which teams you think might be keeping an eye on Russell and if you think his comeback bid will end up a success.
---
Published: February 10, 2013 by Aaron Nagler | Original Article
How do you come back from being one of the biggest draft busts in NFL history?
That's what we're about to find out as we follow JaMarcus Russell, who went from MVP of the Sugar Bowl and first overall pick of the Oakland Raiders in 2007 to out of the NFL in 2010. This, of course, after he signed a six-year contract with the Raiders worth up to $68 million, with $31.5 million guaranteed.
We'll be there to chronicle every step in the process, from now through April, when Russell plans on holding a pro day-style workout for NFL teams. His plans include working at the TEST Football Academy, being tutored by former NFL quarterback Jeff Garcia on technique and getting help from a bevy of other former NFL players, trainers and coaches.
While many observers scoff at the notion of a comeback for a quarterback who reportedly still tips the scales at over 300 pounds, the former LSU star is determined to make NFL general managers and talent evaluators give him one last look.
The video above is our first, quick look—a trailer, if you will—showing Russell's first steps toward his goals. Will he beat the odds?
---
Published: February 10, 2013 | Original Post
NEW JERSEY (MYFOXNY.COM) - Duke Castiglione made a visit to Test Football Academy in Martinsville, New Jersey where they're preparing college players for the upcoming NFL combine in Indianapolis.
Duke also attempted to break six seconds in the 40-yard dash.
---
Published: February 5, 2013 | Original Post
MYFOXNY.COM - Sports Director Duke Castiglione was challenged to break six seconds running the 40-yard dash. Duke headed to the TEST Football Academy in New Jersey to take up the challenge. And the result was oh so close.
---
Published: February 4, 2013 by Ohm Youngmisuk | Original Article
When Scott Brunner first started working with Joe Flacco to prepare the Delaware quarterback for the 2008 NFL combine, he wanted to work on Flacco's mobility.
So Brunner, a former New York Giants quarterback (1980-83), was proud when he watched Flacco make big plays with his arm and feet to win Super Bowl XLVII MVP honors on Sunday night.
"I am most proud of the fact that we kind of debunked the myth that he wasn't a mobile quarterback and he couldn't get out of his own way if he had to," Brunner said by telephone on Monday. "Many times, he escaped the pressure and showed his athleticism. He may not be the guy that breaks the 50-yard run, but he can make plays."
Brunner and the rest of the country watched Flacco complete 22 of 33 passes for 287 yards and three touchdowns with no interceptions. In the postseason, Flacco passed for 11 touchdowns and no picks.
Flacco, who is from Audubon, N.J., attended the University of Delaware, like Brunner did. So it seemed only natural for Brunner to mentor Flacco early on.
Brunner helps train quarterbacks and offensive players at TEST Football Academy. Brunner and Flacco trained at the Martinsville, N.J., location.
Brunner hopes the whole conversation about whether Flacco is an elite quarterback is over now. And he expects Flacco, a free agent, to be paid like an elite quarterback.
"I think the elite QB thing is really overdone," said Brunner, who also is a partner at a firm called Net Worth Management Group. "Certainly, the way he played … it was typical Joe. He remained unflappable throughout the game, executed early and made some great plays. And when it looked like things were sliding away in the second half, he kind of hoisted the team on his back."
"Some people, those doubters who don't want to believe that he is a top-notch quarterback, will continue to find flaws in his game," Brunner a dded. "And people who are fans of Joe Flacco will point to his strengths. I think, more than anything, his playoff record stands on its own. Nobody has more playoff wins than him in the last five years."
Looks like all that work over five years ago paid off.
"We got him started in the right direction," Brunner said. "That is what I am most proud of."
---
Published: February 1, 2013 by Peter Schwartz | (Excerpted from) Original Article
Before he went to the scouting combine to show off his abilities to NFL teams before the 2008 draft, Ravens quarterback Joe Flacco worked out with the TEST Football Academy. Among those that he worked with on the staff was former Giants quarterback Scott Brunner. This week, I caught up with Brunner to talk about Flacco back then and Flacco today.
---
Published: January 23, 2013 by Curtis Crabtree | Original Article
Former Oakland Raiders quarterback Jamarcus Russell is hoping to make a return to the NFL.
Seriously.
Despite still weighing 308 pounds, the former first round pick believes he can make a return to the league. Russell has been working out for the last six weeks in an attempt to get back in shape and return to the football field for the first time since 2009.
According to Yahoo! Sports, Russell will be training with Brian Martin of TEST Football Academy and TEST West and be mentored by former NFL and LSU wide receiver Mike Clayton.
Russell is also expected to get specific training from a handful of former NFL players, including Jeff Garcia and Marshall Faulk, hoping to help restore Russell's football career.
Russell still has a long way to go before any team will even consider giving him a look. Even if he's able to get back into something close to playing shape, he'll have to convince a team to give him a workout. He'll have to answer questions about his arrest for having codeine syrup without a prescription in 2010 and convince someone he's worth a chance.
But you can't blame Russell trying to revitalize his career, even if he's unsuccessful.
"I'm not looking for a pat on the shoulder from people who haven't been there for me," Russell said. "It feels funny not to go through a training camp, that's just what I'm used to. It's going to feel good to go back out there again. I will make this happen."
---
---
---
---
Published: November 16, 2012 by Jason Butt | Original Article
Through four and a half years, QB Joe Flacco has never missed a game or a meaningful snap in a Baltimore Ravens'uniform.
There's a lot to be said for that considering the recent injuries quarterbacks have suffered in the last few weeks. Chiefs quarterback Matt Cassel had to miss a game earlier this year due to a concussion.
Ben Roethlisberger (right shoulder), Jay Cutler (concussion) and Michael Vick (concussion) will not play for their respective teams this week after injuries suffered in Week 10.
Then there's Flacco, who's been as durable throughout his short NFL career as any team could hope for. His injury history is short, despite the amount of hits he's taken since being drafted in the first round of the 2008 draft.
"I haven't played too, too long yet, but [I'm] definitely [proud of not missing a game]," Flacco said. "You want to go out there and you want to show up for your teammates every Sunday, and you do everything you can to make sure that happens."
The worst injury Flacco's played through thus far happened to his hip just before the 2009 playoffs. Flacco said he had a tough time preparing for the New England Patriots in the wild card round due to the injury, saying practice was sometimes painful.
But Flacco tolerated the pain and played against the Patriots. Baltimore won that game decisively, thanks to a strong performance from RB Ray Rice, defeating New England 33-14.
"I could drop back and throw pretty comfortably," Flacco said. "But moving around here and there was definitely a little tough that week."
Rice noted that Flacco's one of the stronger quarterbacks he's seen in this league, making a case that his weight room preparation has helped keep him from coming off the field during games.
"Even when he does get hit, you always look back and check on him," Rice said. "And he's getting up. He's ready to roll. That says something about our quarterback."
Prior to this season, Flacco had been sacked 139 times in 2,097 recorded drop backs. That doesn't factor in the amount of quarterback hits and roughing the passer penalties he's absorbed though. This year, Flacco's taken 19 sacks on 328 drop backs.
Quarterbacks can be an open target in football, which has contributed to stricter rules from the NFL. Sometimes it's the way a quarterback takes the hit that's important.
But that's nothing anyone can teach, though. A lot of it is instinct.
"My wife rides horses and she says that when a horse throws you, you are supposed to lean forward and grab the neck, and then when you jump off you are supposed to roll and kind of take the momentum out of it," coach John Harbaugh said. "We have not worked on that drill with Joe. So I'm not sure. But he is durable. He is a tough guy and we've protected him pretty well over the years."
Though Flacco's taken some tough shots over the years, he hasn't sustained a concussion like Cassel, Vick and Cutler recently have. You can call Flacco lucky, considering how vulnerable quarterbacks are in that department.
Flacco's a tall and strong quarterback at 6-6, 245 pounds. His frame alone allows him to withstand the crushing blows he'll occasionally take on a week to week basis. But one thing has become certain. It will take a lot to knock him out of a game.
"I probably think about how fortunate I am to still be standing, but it's the name of the game so I don't put too much thought into it," Flacco said. "It's just the way it is. Fortunately, I haven't had to deal with a head injury like that. Hopefully I have a lot of football left, so you never know. It's a crazy game. It's a game we all choose to play. Sometimes things like that happen — hopefully just not too often."
---
---
Published: October 11, 2012 by Nick Underhill | Original Article
FOXBOROUGH – The emergence of Stevan Ridley has finally given Tom Brady a chance to step back and exhale.
The weight of every yard gained and every point scored is no longer his burden to carry alone. For the first time in nearly a decade, Brady can step on the field without feeling pressure.
Well, maybe he doesn't have it that good.
"I don't think there's been pressure off me in a long time. I think that's part of the position and probably all NFL quarterbacks feel that," Brady said. "Believe me, it's nice to be able to hand it off and run the ball in. We've been balanced this year on offense."
Actually, the Patriots have been a run-first team this season, tallying 191 runs against 185 passes. The last time the Pats could make that claim was in 2004, when they ran 524 times with 485 passes.
The reason for that change is due to the emergence of Ridley, who ranks fourth in the NFL with 490 rushing yards and is averaging 4.8 yards per carry. If he can maintain his current pace, his yards per attempt would be the highest mark in team history among running backs with 175 more carries since Jim Nance averaged 4.88 in 1966.
Back then, the Patriots played in the AFL and identified with the city of Boston. So, even if Brady is unwilling to admit it, you can't blame Ridley if it seems like he is, indeed, taking some pressure off his quarterback.
"It's different when you hand it off and gain four yards or six yards, which is a good run, but it's different when you hand off and you gain 25. You go, 'That was easy, let's do that again,'" Brady said. "You get backed up against your own goal line, you run it down, you're on the 7-yard line, first-and-10 going in, and you run it in for a touchdown."
And therein lies the difference between Ridley and all the players that have stood behind Brady since Corey Dillon left the Patriots following the 2006 season: He can break a game open on any touch.
Ridley leads the league with nine rushes of 15 or more yards – including five in Week 1 against the Tennessee Titans – and has six other runs of 10 or more yards.
For the sake of reference, BenJarvus Green-Ellis had four runs of 15 or more yards in 2011. He finished with nine in 2010.
That kind of presence not only takes pressure off Brady when it comes time to move the chains, but also helps open up play-action passes because defenses are forced to respect the run.
New England ran play-action on just 16 percent of its plays last season. That number figures to be much higher this season.
"It takes a lot of pressure off Brady. And that's our leader, that's our team," Ridley said. "A lot of people key on him and our running back group has to get some pressure off him so he can be the quarterback he can be. If they're sitting back there staring Brady in the face every play – we can't be a one-dimensional offense. So we're taking pride in that."
And Brady does the same for Ridley. There's no doubt that some of the second-year running back's success is due to those defenses, which often line up in nickel packages against the Patriots, sitting back, waiting for a pass.
But that shouldn't be considered a knock on Ridley's game. Every other running back to walk through the Gillette Stadium doors since 2001 has had the same advantages. He just happens to be making the most of them.
It seems that the only thing that can stop Ridley now is Ridley. He was planted on the bench during the playoffs last year after fumbling twice late in the season and those issues have reemerged this year, as he's coughed up the ball in each of the last two weeks.
For now, head coach Bill Belichick remains patient, but he made it clear that Ridley needs to do a better job protecting the ball.
"We talk and work on ball security every day with everybody," Belichick said. "Everybody who handles it, it's important. It's the highest priority with everybody."
Maybe Brady will let out that breath once Ridley proves that he is fully reliable.
---
Published: May 6, 2012 by Jenny Vrentas | Original Article
Demario Davis sat on a couch in Mike Tannenbaum's office this spring, fielding a battery of questions from the Jets general manager. As is Tannenbaum's style, very few were about football.
Weeks before the Jets selected the Arkansas State linebacker in the third round of the NFL Draft, they brought him to Florham Park for a visit. They needed to make sure he'd fit in. He did more than that.
Coach Rex Ryan was in Tannenbaum's office that day, too, and he was captivated. After Davis stood up, and walked out the glass door, Ryan turned to Tannenbaum.
"Wow," Ryan said. "This is amazing. He reminds me of Ray."
Ryan, of course, referred to Ray Lewis, the all-time great linebacker he coached in Baltimore. This was a lofty comparison Ryan made public on the first day of rookie mini-camp, because he couldn't hold it in anymore.
He made sure not to equate Davis to Lewis, a 16-year veteran and future Hall of Famer. But he couldn't shake the déjà vu he felt in Davis' passion, his mannerisms, and the way he looked Ryan dead in the eyes.
Ryan expects Davis to be a "major contributor," someone whose speed (4.5 40-yard dash) and size (6-2, 239 pounds) earmark him for sub packages, while he perhaps grows into a larger role. But the fourth-year coach also had to have Davis for reasons beyond simply his football ability.
"As a coach, you try to cultivate the environment, no question about it," Ryan said. "But when you really have it is when your players take it. I think he's going to be one of those guys, fit right in with David Harris, and Sione (Pouha) and Mike DeVito. This is their football team."
He paused, and added: "Like Tom Brady in New England. Tom Brady runs that team. He runs it, runs the discipline. Runs everything."
Ryan's expectant vision for Davis was not built off bluster, but thorough research. The early returns have been encouraging at rookie mini-camp, where Davis naturally took on the role of calling the defense together to break down after drills. Davis seems to be absorbing Ryan-speak, too, in the way that he distinguished between NFL football and Jets football.
It was at Arkansas State where Davis came into his own, changed by a religious rededication during his sophomore year of college. In a meeting with Chuck McElroy, a regional director of the on-campus Christian organization "Campus Outreach," Davis realized he was claiming his religion but not truly living it.
He stopped drinking and committed to being an example for others.
Davis' faith was tested in his junior season. He spent 10 weeks in Tampa, Fla., completing evangelism training, and returned to a demotion on the football depth chart.
While the stat sheet says he started all 12 games in 2010, Davis said he was a starter only in selected packages. His playing time, because he spent the summer away from the team, was cut in half. But instead of complaining, he milked every snap he got and earned first-team all-conference honors.
Davis hoped to set an example by the way he handled the situation. But that season, as the team struggled to a 4-8 finish, he also was called on to lead in a different way.
The players were spiraling in different directions, Davis recalled, and there had been several pleas among the teammates to stick together. When that didn't work, Davis made the rare decision to step in as an enforcer. One or two times, he admitted, that entailed getting in a teammate's face and putting him into a locker.
"When you see a guy that's hurting the team more than helping, then everybody feels the same about that guy, it's just what person is going to go up to them and be like, 'Get with it or get out,' " Davis said. "When I see an opportunity to lead, and no one else is doing it, I feel like it is on me to step up. A team can't be successful without leaders."
When Ryan invokes the name Ray Lewis, this is why.
Consider, too, that Ryan said Lewis is the rare player who motivated him as a coach. Davis inspired the new Arkansas State coaching staff his senior year, as a player ambassador who helped Hugh Freeze's staff reach its goals.
The first player meeting Tom Allen had in January 2011, when he came to Arkansas State as the assistant head coach and linebackers coach, was with Davis. The senior told Allen: "I want to put this defense on my shoulders. I want to take the program where it has never gone before."
Arkansas State won the Sun Belt Conference title and finished 10-3.
"Not every kid understands, or lot of times they may want it for themselves, but he wanted that for the team," said Allen, now at Ole Miss. "That's what stuck out so much."
Even in the massive pool of NFL hopefuls, Davis managed to keep sticking out. He was a late addition to the Senior Bowl, but turned scouts' heads as soon as he arrived.
He trained for the NFL Combine at the TEST Football Academy/Parisi Speed School in New Jersey, and Parisi's Rich Sadiv said simply: "He really doesn't have a physical weakness." When the NFL prospects practiced Combine tests like the 40-yard dash before heading to Indianapolis, Davis was the only player who videotaped the critique of his test run on his phone so he could study it at home that night, TEST's Brian Martin said.
The question now is how his gifts, physical and as a leader, will translate to the NFL. Can Davis be the answer to cover New England tight ends Rob Gronkowski and Aaron Hernandez? Can he develop into the same kind of force as his linebacker idols, Lewis and Lawrence Taylor?
Nothing is given or guaranteed in the NFL, and right now, Davis is simply an intriguing rookie behind Harris and Bart Scott on the depth chart.
"I got that sense, that they look for me, when it's my time to lead, to be a leader," Davis said. "But right now, it's probably not that time. It's time for me to get in and learn the system, and just find my place here."
But when it is that time, Ryan knows exactly who he drafted into his locker room: A leader.
---
Published: April 16, 2012 by Jamison Hensley, ESPN.com | Original Article
Baltimore Ravens quarterback Joe Flacco reported for the start of the team's voluntary workouts, despite not having a new deal.
"I wanted to come, just see the guys and throw the ball around a little bit," Flacco told the team's official website. "The contract is not really an issue. It's going to be taken care of by the guys upstairs and my agent.
"I really don't have anything to worry about on that front. Either it's going to get done or it's not. I won't be happy if it doesn't get done, but I'm not going to make a big deal of it."
While there have been differing reports on the negotiations with Flacco -- some say there has been progress while others indicate talks are at a standstill -- it's a positive sign for the Ravens that Flacco decided to show up when he had no obligation to do so.
Conversely, Ravens star running back Ray Rice was not in attendance Monday.
Flacco's appearance suggests that the talks, however they're progressing, haven't created a rift between the team and its quarterback.
"It's just any other offseason," said Flacco, who is entering the final year of his contract. "I'll be at OTAs and stuff and we'll let those guys take care of it. If it gets done it gets done. If it doesn't it doesn't. But I'm not really going to put my mind on it. I'm going to keep myself at ease and keep my mind on football."
The Ravens, though, may not want to get used to seeing Flacco around, and it has nothing to do with negotiations. He and his wife are expecting their first child in June, which could cause him to miss practices this spring.
And if Flacco doesn't sign a new deal by the end of the season, the Ravens could see less of him next spring.
---
Published: April 15, 2012 by Randy Kindred | Original Article
Passing for 14,249 yards put Alex Tanney atop the NCAA Division III record book. Firing 157 touchdown passes made him No. 1 in NCAA history for all divisions.
Yet, for all Tanney accomplished as a Monmouth College quarterback, he's still the guy from the small school.
It was that way at Lexington High School, where Division I college recruiters looked at his impressive numbers, rubbed their chins and said, "We like him, but …"
Now, the evaluating eyes belong to National Football League scouts, and Monmouth's enrollment of 1,343 is a factor.
The guys with the clipboards and stopwatches may not say it up front, or in public, but in conference rooms where draft decisions are made, they talk about it.
Tanney can't change that, but he can use it. It's what he does, who he is.
"I've been going through it my whole life," he said of the small-school stigma. "It's kind of extra motivation for me. It pushes me to continue to work hard and puts a chip on my shoulder."
That may be enough to carry Tanney into an NFL camp.
As the April 26-28 NFL Draft approaches, he is at least on the radar, a triumph when you play in Division III.
Dan Pompei, the Chicago Tribune's respected NFL writer, listed his top 20 quarterback prospects this past week. At No. 1 was Stanford's Andrew Luck. No. 2 was Baylor's Robert Griffin III, the Heisman Trophy winner.
At No. 20, just behind Northwestern's Dan Persa, was "Alex Tanney, Monmouth."
Seems scouts like Tanney's prototypical 6-foot-3, 223-pound frame. They like his accuracy (68.8 percent for his college career) and football IQ, a product of growing up the son of his high school coach, Don Tanney.
Some scouts have come to Monmouth to see him work out. Others watched him perform NFL Combine style drills last month during a Pro Day at Northwestern.
What does it all mean? Only that Tanney has caught their eye.
He'll take it.
"If you look online everybody has a different (draft) position for me," Tanney said. "Right now it's about 50-50 between getting picked in the sixth or seventh round or going as a (undrafted) free agent.
"I've said from the beginning the one thing I wanted coming from a small school was a shot in a camp. I think I'm going to get that."
It would reward the work Tanney has put in, including time with former NFL quarterback Chad Pennington at the TEST Football Academy in Boca Raton, Fla.
Tanney also faced Division I competition in the Players All-Star Classic on Feb. 4 at Little Rock, Ark., going 4 of 11 for 78 yards, and has trained diligently in Florida and Illinois the past five months.
He looks at fifth-year veterans Andy Studebaker of Wheaton (Eureka High School) and Pierre Garcon from Mount Union and realizes the leap from Division III to the NFL is possible.
"It helps my case when you see guys like that having success in the league," Tanney said. "I'm not really feeling any pressure. I'm just trying to prove a lot of people wrong and show that I have the capability to play at the highest level."
The small-school guy is dreaming big.
Good for him.
---
Published: March 27, 2012 by Spencer Gyory | Original Article
Senior offensive tackle Jeff Adams was unable to suit up for the final game of his college career. Had Adams been like almost all Columbia football players, that final game would have been his last opportunity to play organized football for the rest of his life. But Jeff Adams isn't like most Columbia football players—he has a legitimate shot of being selected in this April's NFL Draft.
This is a rare opportunity for a member of Columbia's football program. The last football player to be drafted out of Columbia was defensive end Marcellus Wiley, who was selected by the Buffalo Bills in the second round of the 1997 Draft.
Adams has been an anchor for the Lions at the left tackle position for the past three seasons. In 2011, Adams earned first-team all-Ivy League honors for the third straight season and was named a third-team All-American by the Associated Press.
Over the past five years, 20 offensive tackles, on average, have been selected in the seven rounds of the NFL Draft. Adams is generally ranked as one of the top 15-25 offensive tackle prospects in this year's draft class.
For the past four months, Adams has been hard at work trying to convince NFL scouts that he is an investment worth making.
Adams has a few advantages over other prospective players. First, he has the size to play in the NFL. Adams is listed at 6'6, weighs 308, and has a wingspan of 81.5 inches and big hands.
Second, he is surprisingly athletic for an offensive lineman.
"I have the frame," Adams said. "Everybody always says you can't teach height or length. I have the natural gift of just having it. My biggest strength is my athleticism, though. I run pretty fast and jump pretty high. My athleticism bails me out when I screw something up."
Given his size, Adams might be an intriguing prospect for an offensive line coach willing to take the time to improve his technique and help him get stronger. Pro Football Weekly believes that Adams has "intriguing developmental potential."
While pro teams watch films of prospects' playing throughout their college careers, many place more emphasis on how each player "measures up." Players perform numerous drills and take tests so NFL teams can measure each player's height, weight, speed, quickness, strength, athleticism, and even intelligence.
In order to make the best possible impression, Adams—like all NFL prospects—needs to perfect the proper technique for the barrage of drills and tests scouts use to evaluate each player.
After recovering from a minor knee injury sustained at the end of last season, Adams traveled to Bradenton, Fla., to attend a week-long camp at the IMG Madden Football Academy to improve his conditioning and begin preparing for drills.
"I began working on combine preparation," Adam said. "We had the week off for reading week so I was able to go down there and get a head start because our season ended early. I was able to start training pretty much before everyone else."
In January, Adams was invited to compete in the East-West Shrine Game and the weeklong series of practices in St. Petersburg, Fla. It was an important opportunity for Adams to prove that he could play against some of the nation's top defensive linemen in front of hundreds of scouts.
"It was a great experience," Adams said. "The whole field is surrounded by scouts, so if you make a mistake everybody is going to see it. There was a lot of pressure to perform well."
Adams was excited for the opportunity and pleased with his consistent performance, especially in practice.
"Despite what everyone thinks, the practices are the most important thing," Adams said. "The practices can help you or hurt you, and for me it helped. I was able to focus in and perform well the whole week. For me it was how well you can play against guys from teams like Florida and USC."
After finishing his week of training in Florida, Adams began working out at the Parisi Speed School in Fair Lawn, N.J., and the Test Sports Club in Martinsville, N.J. For a stretch of time, he drove back and forth across the George Washington Bridge every day to train in the morning and go to class in the afternoon.
"For 10 weeks I was training over in New Jersey," Adams said. "I had two training sessions a day, which added up to about four hours. My classes are in the afternoon, so I was able to drive back and go to class regardless of how tired I was."
During these sessions, Adams worked alongside other NFL prospects to try to perfect his drill technique for his pro day.
Adams held two pro days for interested NFL teams. On March 8, Adams worked out in front of 25 teams at Northwestern University. Last week, Adams tried to improve on his scores with another workout at the Baker Athletics Complex in front of representatives from the Jets.
Since his pro days, Adams has been taking calls from teams interested in learning more about him, and working to stay in shape in case they want to see him work out.
"Right now, I'm just sitting and waiting," Adams said.
A number of NFL teams have already shown interest in Adams. The Miami Dolphins called to interview him last week, the New York Jets called on Monday to ask him to attend a workout, and the Cincinnati Bengals are flying him out for an interview.
Even if Adams doesn't get drafted, he could be signed by any team as a free agent and still have the opportunity to make an NFL squad during training camp.
The NFL Draft will be held from April 26 through April 28 at New York City's Radio City Music Hall.
---
Published: March 14, 2012 by Damond Talbot | Original Article
If you are from the Northeast Region you are probably aware of the Young Gun Dan Di Lella of Albany University. Di Lella has been very impressive over the past few months since getting into Test Performance. Even though Di Lella has been an impressive quarterback, people look over him because he is a small school prospect. What they don't realize is that Di Lella has the arm strength and intelligence to be a very successful quarterback in the NFL. He already performed at the Fordham pro day and really drew the NFL scouts interest. I talked with one scout of the New York Giants that said, "Di Lella looks just as good if not better than guys like Aaron Corp of Richmond, and Bo Levi Mitchell of Eastern Washington". That is a huge success for Dan, and he will still have a few more events to show off his arm strength. One event will be the Rutgers Pro Day in a couple days and the Super Regional Combine on March 30th and 31st in Detroit, Michigan.
Di Lella has an extremely powerful arm and NFL size. He has been training with former Jet/Dolphin Chad Pennington and NY Giants quarterback Scott Brunner who made Joe Flacco into a first-round pick. Brunner believes that Di Lella has a huge upside as he improves his mechanics every day. Several scouts have shown interest over the past couple of weeks.
This past season, Di Lella was voted team MVP, NEC Offensive Player of the Year, and First-Team All –Conference. He was FCS National Player of the week one time and NEC Offensive Player of the Week twice. He broke the Albany record for single season passing yards, touchdown passes, and offensive yards. He also set a school record by throwing five touchdown passes and rushing for one in one game. Di Lella is extremely intelligent, has a tremendous work ethic, and is very coachable.
Awards
-2011, Voted team MVP by players and coaches
-2011 College Sports Madness, NEC Offensive Player of the Year
-2011 First team All-Conference quarterback
-2011 FCS National Player of the Week, one time
-2011 Two-time NEC Offensive Player of the Week
-2011 Two-time College Sports Madness National Player of the Week
-2011 Number 17 rated scoring offense in the country
-2011 FCS Academic All-Star Team
Albany University
-2011 Season passing yards, 2548, Single Season School Record
-2011 Touchdown passes, 25, Single Season School Record
-2011 Total offensive yards, 2859, Single Season School Record
-2011 7 games of over 200 yards passing, Single Season School Record
-2011 6 total touchdowns in one game (5 passing, 1 running) School Record
-2011 5 touchdown passes in one game, School Record
-2011 Total yards in a single game, 383, School Record
Dan was able to take the time out of his busy schedule to give us an interview. So let's get to know Dan Di Lella a little better.
What was your most memorable moment playing for Somerville High School?
I would probably say my last game my junior year, we were playing Manasquan. They were a team that didn't allow many yards. It was for the championship, and even though we didn't win the game, it was the game that really put me on the map. I threw around 380 yards and four touchdowns.
How many teams were recruiting you coming out of Somerville High School?
About 5 or 6 teams, the two big ones were UConn and Syracuse. The others were Duke, Rutgers, North Carolina and Albany. I was looking to go to UConn and told the other schools that I didn't want to go there, but when I went to make my decision, all the other schools had already recruited a Quarterback. So I felt that Albany was the best choice for me.
What was your most memorable moment in college?
I would have to say winning, the NEC Championship my senior year. That was a huge game for me, nothing like winning a championship. The coaching staff told me that they were going to switch the team to an option team, but they knew I was a pocket passer, but we went into camp and I was able to win the job over. They told me I wasn't going to play much. So going from being told that you weren't going to play your senior year to winning the NEC Championship is a great feeling.
If I was a GM of an NFL team, what would you tell me you can bring to my team?
I would say I bring a mental aspect to the table. I understand the game, I understand the defense. I would another thing I can bring is my arm strength, I think I can make all the throws that I need to at the NFL Level. I think with the football IQ and the arm strength it makes you that much more of a good quarterback.
What is the most traumatic thing you have ever experienced, and how did you overcome it?
When I was younger I found out that my mother was diagnosed with a kidney disease. It really made me focus on the important things in life. It tells you how important family is, and I applied that to football as well. I try to make the best of all the situations.
How do you break down film, where do you start, and what do you look for?
First thing I start at is always watch the safeties. They are the keys to the defense. The first thing I do is watch where they are aligned. Then you have to look at the alignments the defenses are in. Then you have to figure out what type of coverage's and schemes they use for those types of sets. Once you know that, and can make all the throws they ask you to do, you can really begin to shine on offense.
Where have you been told you are projected to be drafted?
I have been told that I am probably a Free Agent. The big school guys might get drafted. Statistically, 8 or 9 guys get drafted at the QB position, so I know I will have an uphill battle, but If I make it into a camp I will fight to earn a spot on the roster.
Growing up, who was your favorite NFL team?
Denver Broncos
Who was your favorite NFL player?
Favorite Player was John Elway – The Comeback Kid
If you could meet one person in the world dead or alive, who would it be?
John Lennon, Cause who wouldn't want to meet the lead singer of the Beatles.
What is the first thing you are going to buy with your NFL paycheck?
I think I am going to take all the people in my family and friends that supported me throughout this journey to a very nice and expensive dinner.
In ten years from now, I will be ___________________?
happy and successful, hopefully
I would like to thank Dan for a great interview. Dan dominated the 1A level; but do you think he will he be selected in the draft? Make sure to answer the poll question below.
---
Published: February 27, 2012 by Brian Biggane, Palm Beach Post | Original Article
INDIANAPOLIS — The 40-yard dash has become the signature event of the annual NFL Scouting Combine. The sight of linemen lumbering to the finish line and skill-position players speeding over that distance has generated TV ratings that surpass a regular-season baseball game.
The intrigue is in the unpredictability. When a supposedly speedy receiver clocks a mundane 4.7 seconds, it raises a red flag that can follow him the rest of his career.
How does a dynamic runner suddenly look like a dud?
"A lot of players don't know how to run," West Palm Beach native Jacoby Ford said.
Ford does. Two years ago the Clemson wide receiver clocked 4.28, tied with receiver Arrelious Benn (now with Tampa Bay) for the best time of the combine and just off the record of 4.24 turned in by running back Chris Johnson (now with Tennessee) in 2008.
Ford's performance helped him become a fourth-round draft pick of the Oakland Raiders.
"Everyone knew I was fast," said Ford, who had been an NCAA champion at 60 meters. "I didn't put any extra pressure on myself. It's all part of the test."
The Combine's defensive backs, who will run at 9 a.m. Tuesday (NFL Network), should keep that in mind. But the 40 has become so important that players looking for an edge have been turning to sprint coaches to help them prepare. One of those coaches is former Olympic sprinter Ato Boldon, who works with 25 to 30 draft prospects at the TEST Football Academy in Boca Raton.
"When I was first approached three years ago I didn't see how my skills could apply to these guys' needs," Boldon said. "Then I went to the Combine and said 'OK.' There's definitely a need for some of the things I know as a world-class sprinter and coach. When those guys step to the line at the Combine or their Pro Day, they have to turn into sprinters."
Boldon said the players' resistance to his methods has become predictable.
"What happens is, Week 1, it's 'This guy's crazy,' Week 2, it's 'We're not track athletes, we'll never be able to do this,' and Week 3, it's 'Oh my gosh.' They start becoming better athletes."
"It's amazing to me how much mechanics play into it," said University of Tennessee running back Tauren Poole, one of the TEST players. "It was very difficult, and he wants perfection, but every single part of (my technique) got better."
Last year, LSU cornerback Patrick Peterson, who honed his skills under Boldon at TEST, ran a 4.31, tied with Dolphins' fourth-round pick Clyde Gates for second-fastest. Peterson started 16 games for Arizona last season.
This year, among the top performers were three University of Miami products - wideout Travis Benjamin of Belle Glade (4.36), running back Lamar Miller (4.40) and wideout Tommy Streeter (4.40).
Former NFL offensive lineman Darryl Ashmore shakes his head at how technical the approach to the 40 has become. Now a resident of Boynton Beach, Ashmore played 12 NFL seasons with four teams from 1992 through 2003.
"Over the last 10 years it's evolved to where it draws big attention if the running backs or wide receivers don't run the times expected of them," he said. "They have electronic timers now, too, which has changed it. The guys who aren't familiar with them might run a tenth or more slower, and that makes a difference."
Today's players, particularly the linemen, differ on how important the 40 is in their evaluation.
"I haven't put as much emphasis on it as my 10-yard drill," said Colorado tackle Brian Miller, who ran a 5.27 Saturday. "If an offensive lineman is running 40 yards downfield it's probably not a good thing. To show you can move laterally is more important."
"It's really important," countered USC tackle Matt Kalil, whose 4.99 ranked No. 2 in the class. "They want to see how well you can move, how fluid an athlete you are. The 10- to 20-yard range is more important, going from a linebacker to a safety, but it's important to show athleticism."
Over the years, no team has put as much of a premium on speed as Oakland. In 2005 the Raiders drafted Houston cornerback Stanford Routt, who clocked a 4.27, and last year they selected UM cornerback DeMarcus Van Dyke, who ran 4.28. Routt and Van Dyke, like Ford, were unsurpassed in speed at the Combine.
"That's what Al Davis was known for," Ford said of the Raiders owner, who died in October. "His whole thing was speed and guys flying around. We have a different general manager now (Reggie McKenzie), so it'll be interesting to see how we go about it."
Despite his speed, Van Dyke has yet to earn a starting job, a reminder that most teams keep 40 times in perspective in assessing draft prospects.
"The trap is that we start to fall in love with the numbers," NFL Network analyst Mike Mayock said. "Teams that do the best drafting on a consistent basis understand the correct blend between all the factors, and don't get carried away with the measurables. The leader of the process always has to be the college production, and the tape."
---
Published: February 24, 2012 by Cory Twibell, Hicksville Illustrated News | Original Article
All-Long Island star part of last football team at Hofstra
If Holy Trinity grad and Westbury native Ronnie Cameron receives a call from a National Football League general manager in late April, his road to the pros will certainly be one less traveled.
Cameron, who recently earned an information technology MBA, began his football career playing with friends in front of Park Avenue School in New Cassel and as a member of Mineola's pee-wee program as a 7-year-old, yet described his younger self as more student than athlete.
"Westbury didn't have a pee-wee football program at the time so I had to be a part of the Mineola Football Chiefs. It was a great chance and definitely gave me a great start with football.
"At that age football was something I enjoyed doing but it wasn't a long-term career goal. I was more so on the nerdy side as a child. I wanted to be an astronaut growing up and that soon changed to a technology analyst, which I ultimately went to school for," said Cameron, who, at 6 feet 2 inches and 295 pounds, might be best suited for less celestial endeavors for the time being.
The 22-year-old NFL prospect played football throughout his middle and high school years at the Westbury School District before transferring to Holy Trinity Diocesan in Hicksville after his sophomore year. Rules prohibited the transfer from playing in his junior season, but Cameron still saw the opportunity to gain exposure on and off the gridiron.
"Attending and playing for Holy Trinity High School helped me prepare for football at the next level in a major way. The coaching staff, led by coach Tony Mascia, taught me about the small things to perfect in the journey of being a great football player. They also taught me the 'ins and outs' of being a team leader and taking responsibility for those around you," said Cameron, who led the Titans to a 2006 CHSAA AA Championship and was named to the All-Long Island team as a senior.
The Catholic school standout soon accepted a full-scholarship to Hofstra, where he red-shirted his freshman season before contributing on the defensive line for two seasons, eventually earning CAA Academic All-Conference and Hofstra Athletics Academic Honor Roll honors.
In the classroom, where Ronnie had gained so much, happened to be place where he learned that another part of him had been taken away.
"I found out Hofstra dropped their football program through a text message. I was in class, finishing up an exam and I received a few urgent text messages from one of my roommates saying to get over to the football facility – they're dropping our program," said Cameron, who initially dismissed the text as a prank, but not for very long.
"I got there and saw teammates and coaches with tears in their eyes and then I knew it was real. I broke down with emotion because I knew my family just had fallen apart and it was so sudden. It still stings because we had a close-knit family that was ripped apart because of a 'business decision,'" Cameron recalled.
Hofstra President Stuart Rabinowitz issued a statement regarding the unanimous decision to eliminate the program "in order to redirect those resources toward academic initiatives and need-based scholarships." Rabinowitz said the University "could not continue to justify the expense of football compared to the benefits it brought to the University," which left 84 student-athletes in limbo – scholarships were honored but football was gone.
"There are many of us with ill feelings toward the Hofstra administration because of what transpired back in December of 2009," Cameron said, adding that he's in regular contact with some former teammates, many of whom went on to study and compete at different schools as well.
This time around, Cameron's transfer circumstances meant he could play immediately at his next school, which turned out to be Old Dominion University (Norfolk, VA) – a team that also played in Hofstra's former conference, the Colonial Athletic Association (CAA).
Two seasons later, Cameron became a team captain and the first player ever to earn 1st Team All-American, CAA Defensive Player of the Year and CAA Scholar Athlete of the Year honors.
Though his work in class and on the field left him little downtime, the well-rounded Cameron knew a full plate would leave him satisfied once he cleared it.
"It was a lot to juggle but I knew that my hard work would pay off so I stuck to a strict schedule that didn't allow me much time to myself but it was well worth it. Seeing the success of our 2011 Monarch football team and being able to complete my MBA in 16 months were two of my proudest achievements in life and I wouldn't trade it for the world," said Cameron.
Now that Cameron has reached his goal academically, he can shift the focus to his next goal, which will test both his mental and physical strength – training for his NFL scout's "Pro Day" on March 14 in Norfolk, where he'll show how his talents can potentially help a professional football franchise.
"I'm training at TEST Football Academy in Martinsville, N.J. under the tutelage of Brian Martin and Kevin Dunn. I was also afforded the opportunity to play in two all-star games – the Casino Del Sol Game in Tuscon, Arizona and the Players All Star Classic in Little Rock, Arkansas. They both have given me further exposure to scouts and NFL personnel for further evaluation beyond just my film from my two seasons at ODU," said Cameron.
Keeping his followers updated with his progress on his Twitter page, Cameron tweeted that he's now up to 300 pounds and on Feb. 18 announced he scheduled his first NFL visit with the Jacksonville Jaguars.
"I have spoken to over 75 scouts from 30 NFL teams since the beginning of the 2011 season. I've been fortunate enough to leave a positive impression on all of them, which will hopefully bode well for me in April," said Cameron.
And while he's destined for yet another transfer of sorts, friends and fans of Ronnie Cameron can – based on a list of accomplishments longer than his nearly 80-inch wingspan – safely assume that on whatever road he may travel, success won't be far behind.
---
Published: February 21, 2012 by Kristian Dyer, Shutdown Corner | Original Article
Up through the NFL draft, Shutdown Corner's Kristian Dyer will be training at TEST Football Academy Powered by Parisi Speed School in New Jersey along with roughly 20 players. All of these athletes are prepping for the NFL combine, different pro days and of course, the NFL draft in April. A former college soccer player, Kristian was a playground legend at quarterback back in middle school but never played a down of organized football. He will be blogging about the life of training for the NFL draft and a career in the league as he lives it firsthand.
MARTINSVILLE, N.J. — Last week, after being tested at the one-month point of the training process and showing progress, shedding nearly two-tenths of a second off my 40-yard dash and adding three inches to my vertical jump, I was feeling ready to take the next step in my draft preparation process. I was ready to begin positional work.
I was going to start training like a quarterback.
For nearly four weeks, I had been pleased with my results at TEST Sports Clubs' Football Academy, where I was working with draft prospects under the watchful eye of trainers Skip Fuller and Geir Gudmundsen. I was also working out at Parisi Speed Schools, where Terrence Fabor was putting me through workouts to help lower my 40 time. Everything, Fabor told me, "was geared towards the combine and being explosive."
All I knew was that the 90-minute circuit workouts with the 20 or so NFL draft prospects had my body ready to explode and not always feeling "explosive" like Fabor said. Surely working with the quarterbacks was going to be easier; after all, on upper body workouts they were separated from the linemen and the rest of the "big boys" for the bench press segment of the routine.
After the kickers, it is the quarterback position that is most often the butt of jokes in the football locker room. They are often the pretty boys of the team and rarely as big or as cut as many of their teammates. Let's be honest, those fluorescent colored "Don't Hit Me" jerseys in practice don't help either. And now as I got ready to bench press with the quarterbacks, I figured it'd be a lot easier than two weeks before when I benched with the running backs where it was a lot of heavy weights and maximum lifts.
But as Dan DiLella, a quarterback out of Albany, told me "the quarterbacks are where the real strength is." That's because their routine isn't based on heavy weights and maximum bench presses. It is a test of sustained strength.
"We need to be careful with our quarterbacks because they are going to make their money off of their arms and shoulders. We do not want to risk injury or affect their shoulder mobility by lifting too heavy," said Parisi Speed School powered by TEST Sports Clubs' program director Mike Baker. "We do not bench the quarterbacks, but we do a lot of single arm movements with them to increase mobility and flexibility in the arms and shoulders. We also do a lot of internal and external rotational exercises to strengthen the rotator cuffs."
So rather than throw 225 pounds onto a barbell and begin benching, my routine was controlled. After working my way up from 30 pounds, I was holding two 60-pound dumbbells and pressing till exhaustion. I got some approving head nods from the quarterbacks after putting up 23 repetitions. The next closest quarterback had 30 repetitions.
DiLella put up 50 repetitions to pace all the quarterbacks. There was work with the cable machines between sets, all designed to strengthen the quarterback's shoulder and rotator cuff.
I also got some fine turning on my form. One important technique the athletes use when teaching the bench press is to keep the shoulder blades down and back on the bench. This allows the back muscles to act as stabilizers and causes the chest to sit higher off of the bench. This decreases the length the bar needs to travel for a full repetition.
I was also told that when I hit the bench press, to not breathe. Wait, say what? I had always been taught to exhale at the top of the motion. This new concept is called the "valsalva maneuver" and it went against everything I had ever been taught about weightlifting.
"Basically we want the guys to set a basement number that they can reach while holding their breath. By holding their breath, intra-abdominal pressure increases resulting in a significant increase in blood pressure. This causes blood flow and oxygen to rush to the area of the muscles being used, increasing strength and explosion," Baker said.
It also leaves me breathless for the upcoming session with Scott Brunner, the former New York Giants quarterback who was the mentor to Baltimore Ravens Pro Bowl quarterback Joe Flacco.
---
Published: February 18, 2012 by Associated Press, Featured on NFL.com | Original Article
MARTINSVILLE, N.J. -- Other than special-teams players, wide receivers and the guys who cover them, football players rarely break into a sprint. Yet every prospect coming out of college, from the slippery scatback to the behemoth linemen, is measured on his ability to cover 40 yards more quickly than his peers.
With so much riding on those players' times at private workouts, pro days and, most especially, the NFL Scouting Combine, it makes sense to train them.
Teaching prospects at the TEST Football Academy to make like Olympic sprinters is Ato Boldon, who owns four Olympic medals and a world championship.
"I am basically turning football players into sprinters for a while," Boldon says. "When we first talked about it, I didn't know how my expertise could be used."
Boldon then accompanied Brian Martin, CEO of TEST's academies in Florida and New Jersey, to the combine, and his eyes popped open wider than Calvin Johnson's get on a post pattern.
"My first thought: 'Oh my god, these guys are awful,'" Boldon said. "It was 95 percent their technique. It was bad. And I said, 'Now I understand why they want to bring me on board.'
"At the combine last year, my guys did not look like the others. By the end of the combine, I have the fastest guys."
That would include Patrick Peterson of LSU, who went fifth overall to Arizona and wound up tying a league record with four punt returns for touchdowns as a rookie, Stevan Ridley of LSU and Da'Rel Scott of the Super Bowl champion Giants.
This year, he is working with approximately 60 collegians, ranging from Notre Dame guard Trevor Robinson to Sherbrooke -- yes, in Canada -- receiver Simon Charbonneau. Many of his students will be in Indianapolis for next week's combine, but even more must impress at pro days held at school campuses, or in private workouts.
For now, though, the emphasis is on getting the likes of Richmond quarterback Aaron Corp, Arkansas State linebacker DeMario Davis and UMass fullback Emil Igwenagu ready for Indy.
"The first few weeks, football players look at you like you are speaking a foreign language," Boldon says with a laugh. "My job is to get them to trust me, trust the system. I ask them to run in a way that makes no sense to them. Some of them are fast and have run high school track, but most of what high school kids are taught is completely inaccurate.
"We are making a little portion of their brains be sprinters; they are 100 percent football players, but for these purposes, they must learn the proper way to run."
Instead, Boldon seeks to make their running style and strides more efficient, eliminating any wasted movements, especially to the side and with the arms. He gets them early in the morning and, hopefully, by day's end he is seeing a more fluent, skillful sprint through improvement in technique, attention to detail and, Davis says, "lots of hard work."
---
Published: February 18, 2012 by Kristian Dyer, Shutdown Corner | Original Article
Up through the NFL Draft, Shutdown Corner'sKristian Dyer will be training at TEST Football Academy Powered by Parisi Speed School in New Jersey along with roughly 20 players. All of these athletes are prepping for the NFL Combine, different pro days and of course, the NFL Draft in April. A former college soccer player, Kristian was a playground legend at quarterback back in middle school, but never played a down of organized football. He will be blogging about the life of training for the NFL Draft and a career in the league as he lives it firsthand.
MARTINSVILLE, N.J.—It has been a month now that I have been training at TEST Sports Clubs and Parisi Speed Schools alongside roughly two dozen NFL Draft prospects, all of whom are getting ready for next week's NFL Combine and upcoming pro days at their schools. The workouts I've been in have been the same as theirs, I've been following a diet and now it was time to see if the gains were legit or if I was walking around with my chest puffed out on a fitness placebo.
It was time to get tested again — and I was nervous. I felt stronger and the workouts were getting a bit easier. One moment sticks out. Two weeks ago I was partnered with Sharrif Harris, a running back out of Southern Illinois. We were in the middle of our upper body circuit and were doing crunches. We lock feet and one person tossed the medicine ball at their partner, who did a crunch then tossed it back.
There's no doubt this exercise was tough and painful. But midway through Harris crunched up and tossed the ball at me and yelled "You got it in you?" There's been no looking back at that point for either of us. Harris has clearly gotten stronger and now, it was time to see if I was too.
I was easily the slowest "athlete" there, my sportswriter self running a 5.95 time in the 40 a month ago, nearly a second slower than even the biggest, most lumbering lineman.
Ray Wegrzynek, one of the top five long snappers in the country and a standout at Division III Kean, encouraged me after my initial testing left me gasping for breath. "Don't worry about it, we're all coming off long seasons and we're in peak shape right now. Give it a month," he said.
Well, nervously now as I stand in the end zone of the TEST facility, fidgeting as I get ready to run my 40, that time has arrived. I have now given it a month.
Several guys had stayed to watch me; a testament to what I hoped was their appreciation for my work ethic this past month. Truth be told, it was probably just morbid curiosity. I was 10 years removed from playing a competitive sport in college and a train wreck compared to these machines.
I get in my posture and, almost as if in a push-up, work my hands back towards the line. I leave my left arm back with one leg out and then I'm off, head down and arms making big pumps for the first five yards. Then I break into form, arms and elbows tight and my fingertips never going above eye level, all while keeping my head down. I run past the 40 and into the wrestling mat about 10 yards beyond the finish line. It felt good; it felt better than 30 days ago.
Michael Baker, a program director at TEST and one of the trainers I often turn to for advice is holding the stop watch. His expression is blank. "5.78 — you're down almost two-tenths of a second," Baker said smiling. I get a cheer from the guys.
In a world where a player can earn tens of thousands of dollars over a tenth of a second, I was .17 seconds closer to what Bowie State linebacker Delano Johnson likes to tell me is "making money." Everything these guys do, every last rep, is about doing it right and getting better, faster and stronger. It impacts their future.
The vertical jump followed, and I wasn't really sure I had made as much progress here from my 24 inches measured four weeks ago. Would the grueling leg workouts translate to the vertical? I played goalkeeper in college at Montclair State University so I had a decent vertical as I needed to come out and challenge for crosses. But this is just straight up as high as you can.
It is important to start low to be "explosive," as Baker puts it -- feet even and you're in a squat type position. You then jump — straight up — while getting full extension of the arms. You want that extra inch — you need that extra inch. I will be given three tries and Baker is standing there ready to see where I notch. The first two jumps came in at 25 inches and then 26.5 inches so something seems to be working, I've made gains. It is the last one that counts the most.
I swear that Dikembe Mutombo would have been proud. I hit 27 inches.
"That's a good vertical," Mike Brown out of Virginia said after. "It's really important as a defensive back to show you can do that, get up there. That extra inch matters — just look at the final play of the Super Bowl this year."
Progress is being made — can't wait to see what the next month brings.
---
Published: February 14, 2012 by Joel Barker, Bleacher Report | Original Article
Not every graduating senior or early NFL draft entry is gifted enough to be a solid first-round projection. With 3,000-plus former college players vying to be one of April's 224 draft selections, it's hard enough to be drafted at all, much less in the first round of the most analyzed amateur draft in all of professional sports.
Postseason events such as the East-West Shrine Game, the Senior Bowl and the Players All-Star Classic give graduating seniors a chance to set themselves apart in front of the discerning eyes of NFL scouts, draft analysts and experts.
While those games and the pre-game workouts generate plenty of scouting buzz, February's NFL Scouting Combine in Indianapolis is the scouting mecca for all things pre-draft. The invitation-only event features over 300 of the top NFL prospects for the upcoming draft.
A player's draft stock can hold steady, skyrocket or bottom-out based on his performance at the combine. While it's not the be-all-end-all for the top-tier prospects, the combine is potentially a make-or-break opportunity for more than half the athletes participating in the workouts.
For prospects in the mid-to-late round projected range, the difference between being drafted in the fourth or the seventh round could literally be just a few hundredths of a second on a stopwatch.
The monetary difference between the two is represented in zeroes, rather than seconds.
However, for those athletes on the fringe, there is hope for improvement. Across the nation there are scores of training facilities where everyone from first-round locks to fourth-round hopefuls hone their craft before the biggest job interview of their lives at the combine.
One such facility is the TEST Football Academy Powered By Parisi Speed School. With locations in New Jersey and South Florida, TEST/Parisi Football bills itself as "The Choice of the Pros."
TEST founder and CEO Brian Martin considers his company "a one-stop shop for the medical, physical, mental" preparation needed to make sure the athletes under his tutelage "ace the test."
Martin, a former college football player himself, takes pride in the quality of athlete he recruits and the solid NFL prospects TEST/Parisi turns out on a yearly basis.
TEST's NFL combine program consists of eight weeks of intense training. Football players willing to spend 40-50 hours a week for two months improving their skills are exactly the kind of athletes Martin wants at TEST/Parisi.
"If you're not ready to work, don't come to us," Martin said in a recent interview.
Martin continued, "It's a do or die attitude for the guys who are in the lower half of the draft or not on the draft board. They know they need to hit perfect times in order to be considered by a team."
Martin knows exactly what he's talking about too.
One of Martin's success stories is Jacksonville Jaguars defensive tackle Terrance Knighton.
The former Temple defensive lineman came to TEST before the 2009 NFL combine as a 340-pound, seventh-round prospect. Knighton left TEST at 318 pounds, ran a 4.92 40-yard dash at his pro day and was selected in the third round of the 2009 NFL Draft.
Martin also worked with eventual top-10 pick Patrick Peterson before last year's combine.
"Patrick always brought the intensity. Your typical first rounder is not as locked-in as he was," Martin said. "Your typical first rounder knows he's a first rounder and doesn't work as hard."
Still, Martin admits that there's one aspect of each prospect's game that is pivotal for success at getting to the next level. "Our philosophy is that speed is everything," Martin said.
He continued, "When it comes to the combine you gotta be as fast as possible—not only in the 40-yard dash but in every drill and skill. At the end of the day our process is to make each athlete as fast as possible."
TEST/Parisi is accomplishing that by utilizing the expertise of world-class sprinter Ato Bolden in its training program. Martin said, "Ato is the best sprint mechanics guy in the world." Three to four days a week, the four-time Olympic medalist helps prospects shave time off their 40 by coaching the proper methods of sprinting.
Of the 60 prospects on the TEST/Parisi roster, only about 15 were invited the NFL Combine. But for Martin and TEST/Parisi, it's always been more about quality rather than quantity.
"We tend to get the grinders. We get good kids. We don't get kids who are polluted early," Martin explained.
When it comes to training for the NFL combine, preparation is key for every athlete. The training provided to these former student-athletes by TEST/Parisi, and others like it, between the end of their college career and the NFL draft has become an essential part of that preparation.
---
Published: February 9, 2012 by Omar Kelly, South Florida Sun Sentinel | Original Article
What impressed me more than the position, and skill drill instruction being done at TEST Football Academy during my visit this week was the football and life lessons being taught by a number of former NFL veterans.
"Everyone starts on special teams unless you're a first round pick. I did," former Miami Dolphins cornerback Sam Madison said to the linebackers and defensive backs during one of the drills he was running. "You better take it seriously!"
Madison, whom the Dolphins used a second-round pick on back in 1997 indeed played special teams before he went on to become an accomplished starter, and four-time Pro Bowler.
Just about every NFL player except the studs who are too valuable to risk injury play on special teams. Starting receiver Brian Hartline does it. Vontae Davis, a first round pick, does it. Vernon Carey and Paul Soliai have done it for years. But not everyone knows that.
Few people pay enough attention to the third phase of the game.
Madison was dropping knowledge on these draft prospects, who hung on his every word (and he had a lot), and that was just one of about a dozen or so gems I heard in my fly on the wall role at TEST. See video below:
Mark Duper, who I want coaching college receivers because he's good, was going H.A.M. on his receivers all day, finding fault in just about every thing they did.
"Why do the scouts want to see you catch over your shoulder, I don't know?" Duper said. "But that's what they want to see so give it to them."
Duper was hilarious. He was engaging, and he was right. Duper, who tutored former UM standouts Tommy Steeter and Leonard Hankerson, was giving the TEST receivers exactly what their NFL position coaches will. He was paying attention to the details.
At one point Duper yelled, "You got some good quarterbacks out here now so I don't want to see any dropped balls."
He was referring to the four new quarterbacks TEST brought from their New Jersey training facility to work with Chad Pennington, who was working on everyone's footwork, decision making, and mechanics (I learned a lot).
I've been to a number of combine camps over the past decade. One of my fondest memories as a reporter is telling a young Patrick Peterson, who was Patrick Johnson back in high school, what he was doing wrong in his 40-yard run at a Nike High School player combine. Got to sprint through the finish line, going an extra 10 yards.
I learned the trick from Pete Bommarito, who runs an elite combine camp in Aventura.
I've got a great deal of respect for each of these combine programs. They teach players how to win the dog and pony show that the NFL Combine has become.
But I'm certain every player at TEST will be better prepared for an NFL camp, and what comes after it because of the instructors they are learning from.
"You ever heard of a guy named Keenan McCardell?" former NFL tailback Errict Rhett asked former FAU linebacker Mike Lockley, who spent 2011 with the Jacksonville Jaguars, but recently got cut.
Lockley worked at TEST last offseason and it helped this undrafted linebacker stick on the Jaguars 53 all last season. He's presently looking for a new team, and Rhett was trying to keep him encouraged.
"[McCardell] got cut every week! Every week in Cleveland before he got a real shot in Jacksonville," Rhett told Lockley. "You got to keep pressing."
That's great advice for any profession, or aspect of our lives.
G.G.G.
---
Published: February 8, 2012 by Omar Kelly, South Florida Sun Sentinel | Original Article
TEST Football Academy has used a number of former Dolphins & NFL players as instructors in their combine training program
BOCA RATON —
Former Florida Atlantic tight end Darian Williams saw an opening and took it.
Antwon Blake tried to drive Williams inside, where he supposedly had safety help during an instructional drill. But the former UTEP cornerback got too close and Williams cut sharp on a post route and the quarterback zipped a pass his way.
"That's what I'm talking bout!" former NFL fullback Keith Byars yells while sprinting 30 yards downfield to congratulate Williams, his new understudy at TEST Football Academy, which trains former college football standouts as they prepare for the NFL draft process.
Sam Madison, the secondary coach at TEST, immediately pulls Blake aside for some one-on-one instruction.
The former Dolphins cornerback walks him through the coverage, this time in slow motion. The goal is to make sure he doesn't make the same mistake again.
That's the kind of instruction two dozen draft prospects sign up, and pay a couple thousand for.
It's the reason TEST founder and CEO Brian Martin calls on former pros like Byars, Madison, Mark Duper, Chad Pennington, Errict Rhett, and four-time Olympic medalist, sprinter Ato Boldon, to serve as instructors at his Florida Atlantic University based training program.
"They give you the ins and outs, things coaches are looking for," Ole Miss tailback Brandon Bolden said of the instructors. "It's a blueprint."
TEST is primarily based in New Jersey, but Martin started running a combine camp at FAU two years ago.
His team of trainers, coaches and therapists have worked with everyone from Pro Bowl cornerback Patrick Peterson, a first-round pick last year, to Dolphins tailback Daniel Thomas.
Boldon, a Miramar native, is accustomed to training Olympic sprinters, so he initially felt working with football players would be a waste of his time and efforts.
Then he attended an NFL combine three years ago and noticed the horrendous form most football players used in their 40-yard dash sprints, which are used to measure a player's straight line speed.
"A lot of guys have athleticism, but their technique is awful," Boldon said. "It's not a whole lot of effort required [to improve], but your technique has to be flawless."
Learning it takes commitment and discipline. But good technique could be the difference between a 4.66 40-yard dash time and one run in 4.45 seconds, which could be worth millions in NFL salary.
Training facilities like TEST, which are becoming more common throughout the country, work with draft prospects for weeks, if not months, getting them ready for all-star games, the combine, and their school's pro day.
Last offseason TEST became one of the few facilities that trained dozens of NFL players during last year's lockout.
"The weather was a big factor," Martin said, explaining why his facility opened a branch in South Florida, where once a week his clients train on the beach.
"There are a lot of facilities that do what we do, but we're focused on bringing in the proper resources to get them prepared, providing good instruction. These guys need an army around them to succeed."
That's why former pros like Duper are around to explain the proper body positioning for certain catches.
Pennington conducts classroom tutorials with former college stars like LSU's Jordan Jefferson and Richmond's Aaron Corp, helping them improve their understanding of defenses, and the football jargon they'll need to use to impress NFL executives.
"[I'm talking] to them about how to be a professional, the little things, understanding how important the details are. They're magnified now because the competition is greater," said Pennington, who works with TEST clients twice a week.
"The athleticism is greater [in the NFL], which means the details must be paid more attention to because you just can't be a better athlete anymore."
Technique, fundamentals and focus have to be sharp because that's what's needed to move from an NFL team's draft board to their 53-man roster.
"You know I got that BB gun loose. Better get ready," Madison warned his defensive backs and linebackers on Tuesday after South Carolina State safety Christian Thompson dropped a possible interception Madison fired his way.
"That's exactly what it's going to look like coming from those NFL arms. Better be ready!"
---
Little Rock, Arkansas (January 31, 2012)—TEST Football Academy Powered by Parisi Speed School, one of the top training facilities preparing college football players for the NFL Combine in the country, has been selected as the official strength and conditioning partner of the Players All Star Classic. TEST Founder/CEO Brian Martin and Owner/COO Kevin Dunn will be leading stretching and warm-up exercises for all the players throughout the week.
Martin and Dunn will also make a presentation to the players on Wednesday evening on the keys to enhancing their NFL Draft status. Martin, a 19-year sports veteran in the performance industry and a certified strength and conditioning specialist, and Dunn, a bio-mechanics and performance coach, will review the specific drills at the Combine and where each of the players' weaknesses lie based on reports from scouts and then create personalized plans for each player on how to improve his showing at the Combine.
"The Players All-Star Classic is a great event for pro scouts to get one final look at these top athletes in game day action prior to the NFL Combine," added Martin. "Our role in training the players, both here and at TEST Football Academy, is to instill these players with the knowledge and confidence to achieve their peak performance on the field and at the Combine. We want to make sure these athletes are physically and mentally prepared for the toughest competition they will face and to exceed all expectations."
The Players All-Star Classic, a college football all-star game will be played at War Memorial Stadium, AT&T Field in Little Rock, Arkansas at 4:00 PM Eastern on February 4, 2012.
In addition to serving as the official strength and conditioning partner, TEST is helping several of the athletes competing in the All-Star Classic in preparing for the upcoming NFL Combine and pro workout days. These athletes include:
North:
Alex Tanney, QB, Monmouth State (Ill)
Ronnie Cameron, DT, Old Dominion
Josue Ortiz, DE, Harvard
Tahir Whitehead, LB, Temple
South:
Aaron Corp, QB, Richmond/USC
Brandon Bolden, RB, Ole Miss
Jaymes Brooks, OL, Virginia Tech
Jordan Jefferson, QB, LSU
Jerico Nelson, DB, Arkansas
Tyler Urban, TE, West Virginia
Landon Walker, OG, Clemson
About TEST Football Academy Powered by Parisi Speed School:
Over the past decade, TEST Football Academy and Parisi Speed School have been the nation's top authorities in preparing college football players for the NFL Combine. The TEST and Parisi team is made up of the best practitioners in the industry including performance enhancement specialists, football position specific coaches, nutritionists, therapists and doctors. TEST and Parisi have produced the fastest 40-yard-dash at 10 different positions, including the overall fastest man at the 2001, 2004, 2005 and 2006 NFL Combine; the 3rd fastest man at the 2002, 2004 and 2006 Combine and two athletes tied for second overall in 2011 (both weighing in at over 212 pounds). TEST/Parisi athletes have shattered six all-time Combine record in the 20 and 60 yard shuttles and the 3-cone drill and have won individual events at 10 different positions. These impressive results have helped 192 of the TEST/Parisi trained players get drafted over the past 10 years. Past clients of TEST and Parisi NFL Combine Training include Joe Flacco, Ray Rice, Patrick Peterson and Osi Umenyiora.
###
Contact: Rachel Gary
201.615.9629/Rachel.GaryPR@gmail.com
---
Published: January 31, 2012, BuffaloBillsDraft.com | Original Article
Did you think the All-Star season ended with this past weekends Senior Bowl? No siree bob, we have another week of practices, another game, and tons of other prospects to talk about. With that in mind here is our preview of the North Roster at the Players All-Star Classic in Little Rock, AR.
QB Dominique Davis, East Carolina/Boston College
We last saw Davis at the Battle of Florida game in Boca Raton where he was considered to be one of the top QB's there. He comes into this game with plenty of competition from lower level guys who are hungry and talented.
QB Alex Tanney, Monmouth (IL)
Tanney is more famous right now for his trick shot video last spring than his NFL Draft status but make no mistake about it this kid can play ball. He is probably the most talented QB in the Division III level and should be able to make plenty of noise in Arkansas.
QB Matt Blanchard, Wisconsin-Whitewater
For as talented as Tanney in, his resume isn't as impressive as Blanchard whose team is now the back to back to back defending Division III National Champions. He has a solid arm and good accuracy though he rarely got a chance to show it in his system. He could be a dark horse.
FB/RB Darryl Whiting, Fordham
I haven't seen much of Whiting outside of a Youtube video but he runs with good size, and balance, he's a strong looking down hill runner who will need to show he can lower his shoulder and find the burst to get through the hole. He's somebody to watch.
WR Derek Moye, Penn State
Moye has the size and ability to catch the ball that you want in a WR, he has soft hands, good body control and can use his body to box out the defender. The question is can he separate from the coverage? His foot speed is in question and he'll have to show us something in Little Rock.
WR Marcus Rivers, Buffalo
Speaking of players who will have to show us something, Marcus Rivers is a big WR who many have probably never heard of despite playing FBS football. Rivers has great size and underrated athleticism but he needs to show the consistency that guys like Moye have along with proving he can get off coverage.
OC/OL Charles Burton, Montana
Burton is one of these small school OL who you could see at almost any position in this game, he's listed as an OC despite playing OT this year and he can also kick inside to OG if needed. He's strong at the point of attack but raw in his fundamentals.
OC/LS Jason Slowey, Western Oregon
Another OT to OC, or anywhere type of OL prospect. Slowey has good size and athletic ability, and it will be interesting to see how he handles the snapping duties this week. I'd like to see him pull and get out in front but that may not happen in an all-star game with simplistic schemes.
OG Mike Ryan, Connecticut
Big strong kid who played some RT but I actually like him a lot at OG for this game, he performed pretty well at the NFLPA game already this offseason. It's not a great DT group he'll be going against so I'm looking for him to be dominant all week.
OT Dustin Waldron, Portland State
Maybe the surprise of the combine invites so far, Waldron is a very athletic OT prospect who can move and get out in front of plays to the outside. He can really do a good job getting outside the DE and sealing the line off the edge. Be interest to see how he responds against some quick DE's.
OT Jon Opperud, Montana
This was Burton's book end at Montana as they helped power a dominant rushing attack that was among the best in the country. Opperund is has good size and plays with impressive leverage for a small school player. His footwork and athleticism will be put to the test in this game.
DE/OLB Jamie Blatnick, Oklahoma State
Blatnick was a guy (along with teammate Richetti Jones) who I liked a lot coming into this year but wasn't convinced about just how good they could be. Blatnick had a strong year but it wasn't as consistent or dominant as I had hoped for. This week will be big for him as he is among the best players in this game.
DT/DE Josue Ortiz, Harvard
An absolutely dominant Ivy League player who terrorized every other team he played for years. Ortiz has a good first step and is advanced in using his hands to shed blocks and split gaps. He could end up being the best DT in this game if he continues to show off his quickness.
DT Ronnie Cameron, Old Dominion
Ronnie Cameron had a good but not great week in Tuscon at the Casino Del Sol game earlier this all-star season. He needs to work on continuing to stay low after contact and driving through his man. He has a good first step and can dominate the gaps with his get off.
DT Christo Bilukidi, Georgia State
Bilukidi may be the biggest unknown in this game as his Georgia State team only just finished its 2nd year of football ever. Biukidi has a big body that could project either inside to DT or outside to DE in a 34 set. As a Canadian born prospect Bilukidi has draw plenty of attention for the CFL Scouting Bureau.
OLB/DE D.J. Bryant, James Madison
Probably one of the best pass rushers in this game Bryant will have plenty of eyes on him as he goes up against a very strong set of OT's in practice. He'll need to make sure he's firing off the ball well and getting the OT to commit before he makes his move.
ILB Caleb McSurdy, Montana
McSurdy is a tackling machine in the middle who doesn't have elite level athleticism but does have good instincts and play recognition ability. Once McSurdy gets you in his grasp there isn't much else you can do. He can also be a violent hitter though he'd doesn't give up the tackle so that he can attempt a big hit.
OLB/DE Zach Nash, Cal-State Sacramento
A pass rush specialist that not many people have seen, Nash doesn't have the best size but he does know how to get after the passer. He's quite raw with his technique and has been able to dominate for the most part based on athleticism so this week will be a good test for him.
OLB/DE Adrian Robinson, Temple
No player in this game has undergone more scrutiny and examination than Adrian Robinson, scouts have spent hours examining his tape and wondering exactly what he can be in the NFL. His size doesn't help him at all, so he needs a strong week to avoid the "tweener" label.
CB/S Tashaun Gipson, Wyoming
A preseason favourite of ours, Gipson was the best player on a surprisingly competitive Wyoming team this year. The Cowboys struggled at times to get pressure and Gipson often found himself in situations where he needed to cover his man or zone for 5 or more seconds. A strong week here will shoot his stock up.
S/CB Jeremy Jones, Wayne State (MI)
One of the many stars of the Division II National Title Game, Jones made his presence felt early and often as he flew all over the field delivering massive blows and making plays. Jones has good speed and size for the DB position and should be able to stick to most of the WR's in this game.
RT/WR Julian Talley, UMass
Talley is probably my favorite WR in this game, with his size and speed I hope to see him tearing up this week in Little Rock. He has outstanding hands and knows how to make the tough catch. He will draw lots of attention with the success that fellow UMass alum Victor Cruz is having in the NFL.
---
Published: January 27, 2012 by Wes Bunting, National Football Post | Original Article
Stock on the rise...
SS George Iloka: Boise State (6-3, 216)
He's a gifted athlete who can play in the deep half, get early jumps on the football and close with authority. Now, at 6-3 he's going to get a bit leggy out of his breaks at times, but he has the size and athleticism needed to cover the mismatch tight ends in the NFL.
OLB Demario Davis: Arkansas State (6-3, 230)
He jumped out on tape at me this year and did the same all week in Mobile. He's a tough backer with natural quickness, sees the action well and has a "plus" first step. He displays natural range/fluidity in coverage and if he can learn to quiet his feet a bit, he possesses the type of explosive element to his game to win in both the run and pass game.
OG Tony Bergstrom: Utah (6-6, 315)
I wasn't a big fan of Bergstrom coming into the game. However, watching him at guard this week, I thought he did a nice job sinking his hips and extending his arms into contact, while displaying the anchor and fluidity to mirror. He was one of the best blockers on the North squad and looks like a potential starting caliber guard to me.
WR Chris Rainey: Florida (5-9, 174)
He's a narrow framed athlete, but exhibits natural running ability and can consistently make defenders miss. Needs to add some girth, but he can catch the football underneath, create something out of nothing with the ball in his hands and was the most explosive straight-line athlete down here this week, outpacing even the fastest corners on the South squad at times.
DT Brandon Thompson: Clemson (6-2, 310)
Thompson didn't receive quite the love of some of the other higher profile defensive linemen this week. However, he was explosive off the snap, was able to consistently gain leverage in both the run and pass game and overwhelm through contact. You know what you're getting from him and he's one of the safer defensive line prospects in the class.
---
Published: January 26, 2012 by Joe Girvan, ESPN 760 | Original Article
BOCA RATON, Fla. - Leading up to the annual selection show in late April, pro football prospects will go through a variety of combines and so-called "pro days," to show their skills for NFL scouts.
Football has long been known as a game of inches, but when working out for player personnel types, it becomes one of split-seconds as well. Events the like the 40-yard dash, shuttle run, and 3 cone drill will help determine where, or if, a player is drafted.
With that in mind, a number of players hoping to make the jump to the next level are training at Florida Atlantic University. They're taking part in the TEST Football Academy powered by Parisi Speed School.
"It's a big job interview," said TEST Founder and CEO Brian Martin.
He teaches his players how to get faster, as well as life lessons like making eye contact and giving a firm handshake.
Former Dolphins quarterback Chad Pennington is a teacher at the academy.
"Just try to look at their fundamentals, and the physicality part of the quarterback position, and try to tweak some things," said Pennington. "Although we're our own athlete, and we have our own style, there are a few fundamentals that need to be consistent within that style. Number two, I think, just learning to be a professional."
---
Published: January 26, 2012 by Mike Tanier, Yahoo! Shutdown Corner | Original Article
I almost caught a shotgun snap during the North squad's Senior Bowl practice on Wednesday.
I should have been in no position to catch a shotgun snap. I was not on the field, but behind a fence at the back of the end zone. Kevin Zeitler's pre-practice warm-up snap sailed over Kellen Moore's head and struck the top of the fence about two feet to my right. It was the first of many adventurous shotgun snaps during the North practice, but the only one to nearly endanger a blogger.
Zeitler is doing the best he can. He's a guard, and one of the best guards in the country, an old-fashioned mauler who is excellent when pulling. He never played center in college, except for a few freshman snaps. He never played center in high school or Pop Warner. He is playing behind Ohio State's Tim Brewster at center this week because North centers have been falling like Spinal Tap drummers.
Arizona State's Garth Gerhart suffered a finger injury during Monday's practice. Joe Looney arrived from Wake Forest to replace him on Tuesday, taking the field in just shoulder pads during warm-ups while equipment managers prepared his uniform. He left the field an hour later with torn ligaments in his foot.
The latest star-crossed soul to join the North roster at center is Rishaw Johnson of University of California (Pennsylvania). Johnson was working out at TEST Football Academy in Boca Raton when he was called to Mobile on Tuesday. "I had no idea was going to get this call," he said, adding that he was so involved in personal workouts that he was not keeping track of the center injuries that were about to directly impact his situation.
He took a two-hour flight to Mobile and arrived at 10:30 PM on Tuesday night. He did not see a playbook or talk to a coach until Wednesday morning. He learned the snap counts when he walked onto the field. He knew none of the plays; his linemates told him what to do before each snapas he lined up. "I was just out there winging it," Johnson said after practice.
Under the circumstances, Johnson did the best he could. "I had a decent day blocking. I just have to get the ball up," he said. Johnson took extra reps working on his shotgun snaps at the end of practice.
At least Johnson has experience at center. Zeitler has had to learn everything about the position this week. "Evening up the stance is different," Zeitler said of the move from guard to center. "There's a lot of stuff to do before the snap." Zeitler has seen plenty of defensive fronts as a guard, and he knows what he is looking at and what adjustments and calls to make. He just never had to make them. "It's not so much that I don't see it, it's that I am getting to talk, pointing, and making sure I get the ball all the way up the way I like it before the quarterback lines up."
None of these mental aspects of the game matter much at guard. "You don't have to worry," Zeitler said. "You just worry about killing your guy."
North coach Leslie Frazier knows he put Zeitler in a tough position. "It's a little bit of a shock when you have practiced it but never really played it," Frazier said on Tuesday, showing that he may have been a little cloudy on the details (Zeitler never practiced at center, either.) "I think he has handled it pretty well."
The North's problems at center have affected their whole offense during practice. Shotgun snaps arrive at the quarterback's knees or high above his head, disrupting the timing of passing plays. Valuable reps are wasted on muffed snaps. Evaluating other players becomes difficult when the initial center exchange is botched. Brewster is experienced and reliable, but there is only one of him. He may make most of the snaps in the Senior Bowl itself, but he cannot make every snap of every practice.
The good news for Johnson is that he made it through Wednesday's practice healthy, and he gets an opportunity to prove himself against top competition that he would not get while working out at a practice facility. "It's a hell of an opportunity. I can't turn it down," he said.
Johnson took some time to talk to his TEST Academy trainers after practice, and they began giving him fine pointers about the mechanics of his snap. Johnson even searched for a football so he could perfect his grip with the help of the trainers. Unfortunately, the equipment bags had already been taken off the field. There would be no more shotgun snaps that morning.
That was probably the best thing for everyone's safety.
---